Rimowa vs. Tumi vs. Samsonite vs. Away: Which Makes the Best Suitecase?
Rimowa,Tumi,Samsonite, Away are all best suitcase and high-end luggage brands. And they are both popular among frequent flyers. You should be perfectly aware of what you are spending your money on when you get a really expensive suitcase. In this post we'll put the best-selling suitcases from these brands side by side, and see if there is a clear winner. Which brand of luggage is the most durable? Are Rimowa suitcases worth it? Is Rimowa better than Tumi? Is rimowa better than Samsonite? Tumi vs samsonite vs Away vs Rimowa, which is better? There will be several aspects that we have to consider, such as price, design, sizes, material, durability, guarantee. I've listed down below details to make your decision-making a lot easier. And at the end of the article, I will recommend you a few websites that are the cheapest to buy these suitcase brands.

Cover Photo:Samsonite Ins
History and Origin
Founded in 1898 in Germany, Rimowa is a family owned business. First introduced by Paul Morszeck, his idea to make lightweight and sturdy luggage turned into a goldmine. RIMOWA's very first cases are crafted in hardwearing wood, with an emphasis on lightweight construction and superior stability. After years of wooden cases getting a considerable following of world travelers, Paul's son Richard Morszeck launched the first aluminum cases in 1937.
The metal trunks are designed for overseas travel and the lightweight metal was inspired from the German airplane, Junker aircraft, a two-engine World War II.
In the year 2000, Rimowa has invented polycarbonate cases and has TSA lock on the products for fast and smooth security checks in Airports.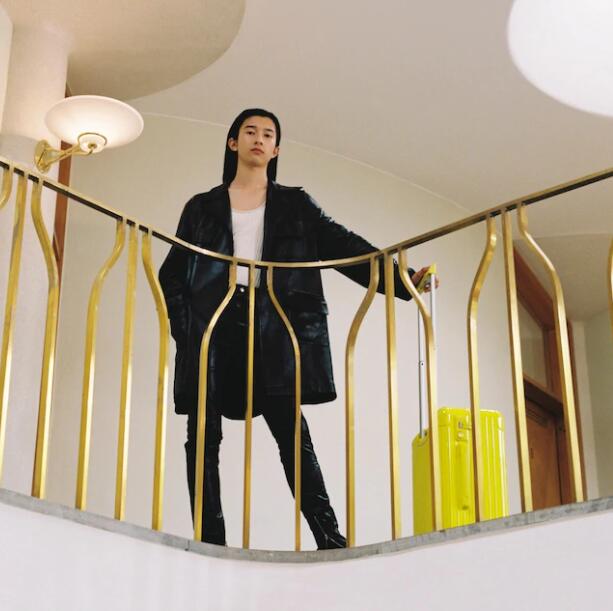 Source:rimowa.com
Price
Rimowa is a luxurious brand designed for World travels.When it comes to price, Rimowa comes on top in comparison to similar luggage categories of competitor companies. RIMOWA covers a wide price range and the individual luggage's cost will highly depend on its size and the material used. In general, aluminum cost a bit more compared to polycarbonate and the more innovative features the luggage comes, the higher the price will be. The aluminum cases of Rimowa are priced from $980 to $2250 and the polycarbonate cases are priced from $1030 to $4200.
Designs
This brand produces one of the most iconic hard-shell casing in the world. It's a gorgeous albeit expensive brand. Rimowa makes super modern looking aluminium suitcases and has more recently expanded into polycarbonate also. Their cases have a very distinctive ribbed look which you can quickly recognize RIMOWA.
Rimowa keeps forward thinking attitude with its stylish and simple design but never sacrificing the luggage's maneuverability and functionality of this ultimate travel accessory.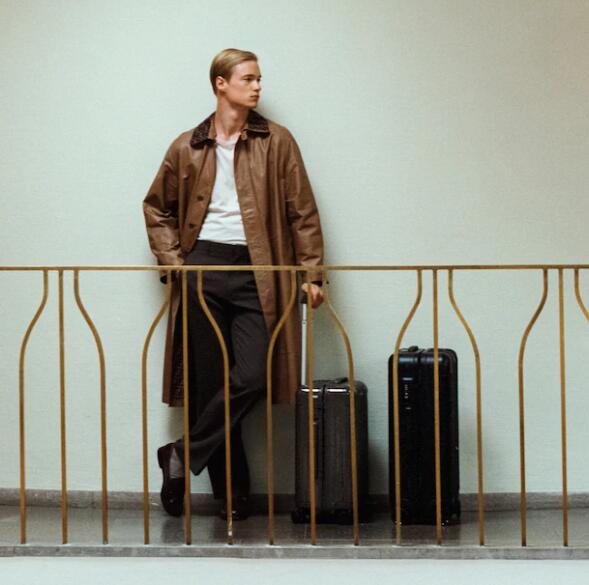 Source:rimowa.com
Sizes
RIMOWA collections give you the freedom to choose between a range of different cases suitable for your type of journey. RIMOWA luggage is available in Small, Medium and Large Sizes with volume that ranges from 20 to 120 liters. RIMOWA'S polycarbonate luggage is available in size XL with a capacity of about 120 to 150 liters.
Material & Durability
From vintage wood to classic aluminium to high-tech polycarbonate: at RIMOWA, they've always looked for ways to make travel better. Aluminum and polycarbonate are both strong materials that offer durable yet extremely lightweight luggage that can withstand countless climates and condition of your travel adventure would be.
Much of the craftmanship on the luggage is crafted by hand, making the-pieces very original with a look of quality. The Rimowa luggage are very attractive and sturdy though there are some complains of damaged corners in aluminum pieces.
Guarantee
RIMOWA gives a 5-Year Guarantee and Manufacturer's Warranty on all their luggage all over the world. The guarantee is applicable only if the malfunctioning is found to be due on a manufacturing defect. If the product is misused, according to what the manufacturer deems proper use, then the guarantee will be void.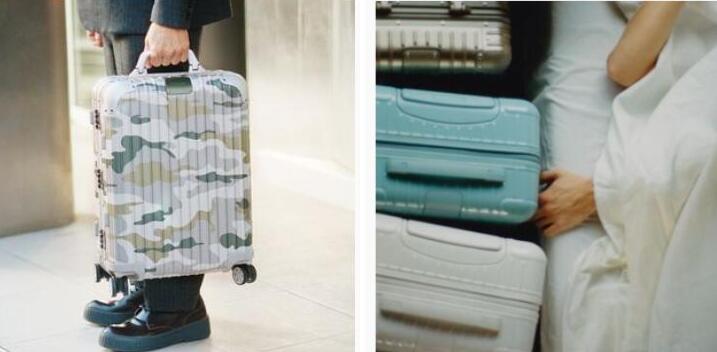 Source:Rimowa Ins
Saving Tip: If you like online shopping, don't forget to sign up at Extrabux!(What is Extrabux) , then you can enjoy up to 30+% cashback on your purchase from Extrabux! Sign-Up Bonus: Free to join it & get $20 welcome bonus!
History and Origin
Tumi is most often recognized as the world's leading brand of luxury-travel, business and lifestyle accessories and touts the brand as such. Founded in 1975, TUMI takes its name from a Peruvian icon known to its founder from his Peace Corps days in South America. During the 1980's, TUMI's innovative introduction of soft, ultra-functional, black-on-black ballistic nylon travel bags with U-shaped zipper. The bag's practicality and extreme functionality struck a chord with travel consumers.
In the year 1983, they emerged to be the leading design company in the luggage industry with their introduction of the revolutionary carry-on garment bag.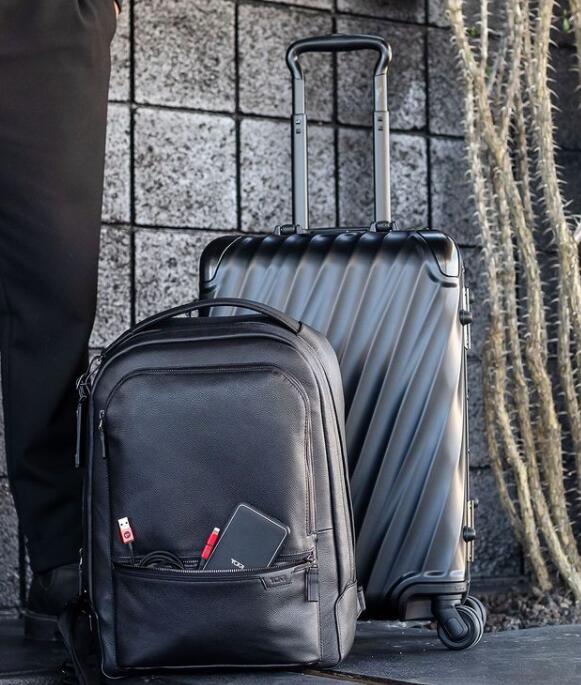 Source:TUMI Ins
Price
The price also varies. TUMI luggage can a bit more expensive compared to similar products, but it will last you longer than the cheaper alternative suitcase. Carry On Luggage - Travel Rolling Luggage priced at $495- $1800; Checked Luggage, Rolling & Hardside Bags- $695 - $2000; Wheeled Duffles- $750-$1275.
Designs
Combining a refined aesthetic with functionality and durability, Tumi has rightfully earned its place as a favorite among luxury travelers. With numerous options of all sizes for both hard-sided and soft-sided suitcases, Tumi has bags to suit just about all tastes. As of to date, TUMI already holds over 125 patents for its design as well as engineering breakthrough.
Its well-thought-out suitcases include premium spinner wheels, heavy-duty zippers, scratch- and tear-resistant exteriors, and well-designed interiors that help travelers maximize every last inch of space.
Sizes
TUMI comes in a various size to suit your needs. They offer suitcases that you can either carry-on or checked in. For example, its best-selling TUMI V3 international expandable carry-on case measures 9x14x22 inches, which is the largest size of most suitcases, but it can be expanded to 2 inches and can still be carried. While its V3 Worldwide Packing Case made of polycarbonate plastic and has four dual wheels measures 12.5 x 22 x 34 inches.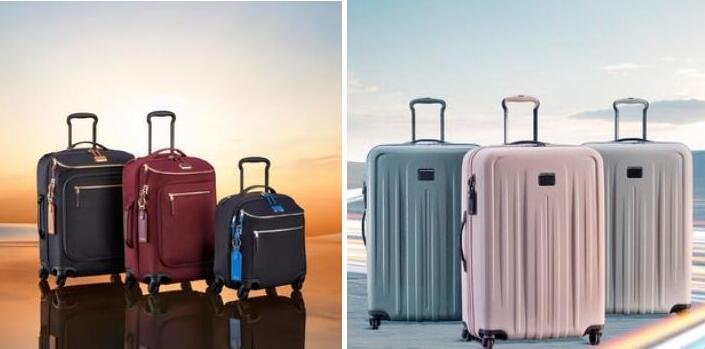 Source:TUMI Ins
Material & Durability
TUMI is always on the lookout for the latest and greatest material. They make sure they are using the lightest and most durable materials that are going to make great travel products. Whether it is ballistic nylon, hard side, fabric, leather, nylon and textured fabric, these are all the types of materials will be able to withstand all the harshness travel can bring.
They patented FXT ballistic fabric that combines a unique weave together with a special coating to make the luggage ultra-durable. They also have the Durafold feature which is a construction method that reinforces the corners of hardside cases with heavy-duty stitching and impact-resistance caps.
Like Rimowa, Tumi luggage pieces are an investment. And they're a worthy one since these suitcases will likely last you years, if not decades.
Guarantee
TUMI offers world-class Customer Service. Product warranties - the first year of ownership Tumi will cover the cost of damaged pieces-even if the damage occured due to natural wear and tear. Luggage defects are covered for five years (Must be the original owner with proof of purchase). And if gets lost, they will help you track it down with their TUMI Tracer ® product recovery program. More than 260 service center all over the globe help you with any services you need, like handle repairs and zipper pull.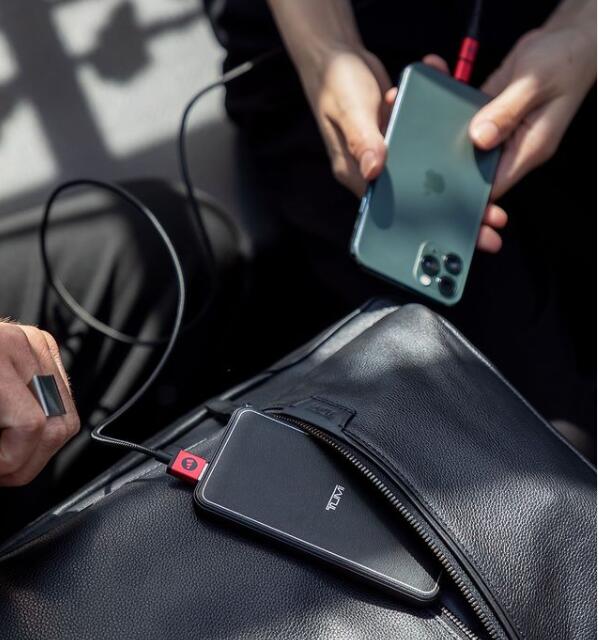 Source:TUMI Ins
History and Origin
Samsonite was founded in 1910 by Jesse Shwayder in Denver, Colorado. It is an American luggage manufacturer and retailer known for delivering durability and style at an affordable price - allowing you to save money without sacrificing quality.
Shwayder was a religious man, who initially named one of his initial cases as Samson, after the Biblical strongman. He changed its name to Samsonite in 1966. Samsonite is the worldwide leader in superior travel bags, luggage, and accessories combining notable style with the latest design technology and the utmost attention to quality and durability.
Samsonite markets its brand as durable and 'ready for anything'. For more than 100 years, Samsonite has leveraged its rich design heritage to create unparalleled products that fulfill the on-the-go lifestyle needs of the business professional. Now, it's a very popular and well-known brands.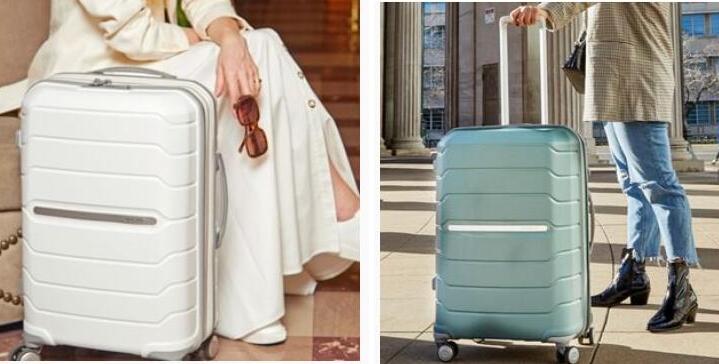 Source:Samsonite Ins
Price
The biggest advantage to purchasing Samsonite luggage and accessories is; the mid-range price -priced at $350 - $1,150. This coupled with the brands durability is a big plus. Although they're not the most expensive luggage in the market and the quality is worth the price, not everyone can afford this baggage.
Designs
Samsonite suitcases vary a lot in both color and style, so you have a lot of options to choose from. They offers different models, but the features are really similar. They market a line to women- luggage, purses (totes), and accessories in appealing colors.
Samsonite is known for the super-lightweight hard cases - The 20 inch Cosmolite is insanely light at - 4.1 lb. On the other side is the ever popular Samsonite Omni 21 inch - 6lb 12 oz.
Sizes
Samsonite luggages are available in different sizes:14" to 17" (Personal / Underseat);18" to 21" (International Carry On) ;22" to 23" (Domestic Carry On) ;24" to 27" (Medium Checked);28"+ (Large/ Extra Large Checked).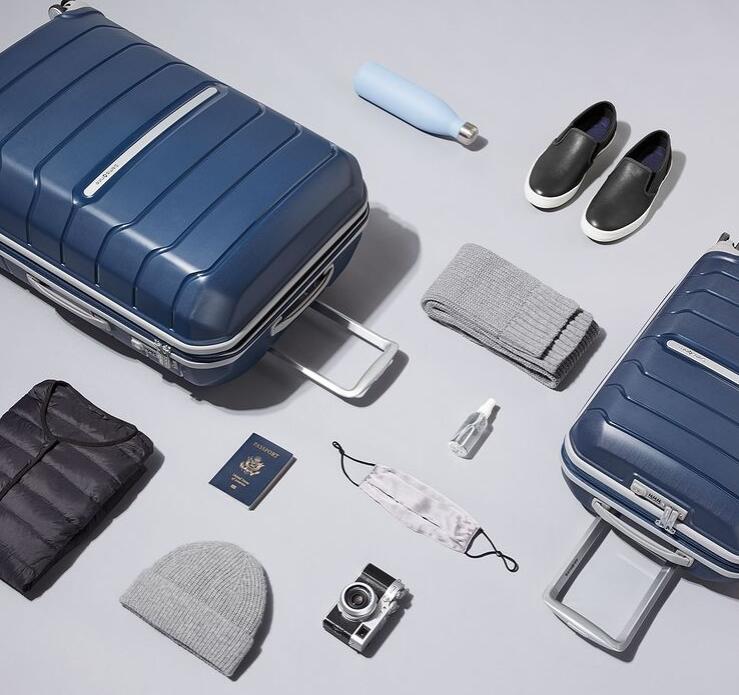 Source:Samsonite Ins
Material & Durability
Samsonite products are durable, reliable, and practical. All of its luggage ranges are rigorously tested to meet extremely stringent standards. Samsonite cases are made from hardworking and highly durable materials that can help your luggage look as good as new, no matter how many adventures you take them on. Its best-selling hardshell cases are scratch-resistant and come complete with corner protectors to ensure they are strong enough to stand up the bumps and knocks of long-distance travel. Its lightweight fabric cases are also incredibly strong, and feature rip-and tear-proof materials as well as oil- and weather-resistant coatings.
Guarantee
Samsonite offers a reliable warranty and excellent support. Many of its cases and travel bags come with a 5 and 10-year warranty against any rare defects found in the materials or as a result of poor workmanship. Samsonite offers a thirty day return policy to their customers. The downloadable travel app of Samsonite allows the travelers to track their miles and get discounts and rewards on their Samsonite purchases.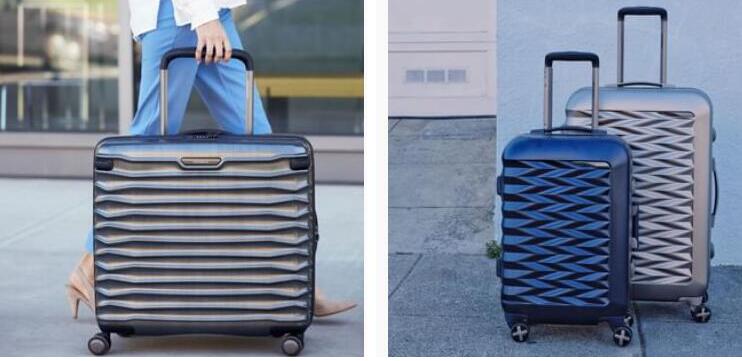 Source:Samsonite Ins
History and Origin
Luggage startup Away has quickly become the de facto trademark of millennial jet-setters. Founded in 2015 by two former Warby Parker execs, Away has managed to make a rather ho-hum item an object of intense Instagram lust through celebrity collaborations, limited edition designs, and plenty of personalization options.
Their pieces aren't "smart", they're thoughtful, with features that solve real travel problems and premium materials chosen to be resilient and beautiful. A result is a group of travel standards that help you find your way by staying out of it.
The brand was set up to be sold directly to consumers without the massive mark up of premium luggage brands as well as solving common travel packing issues.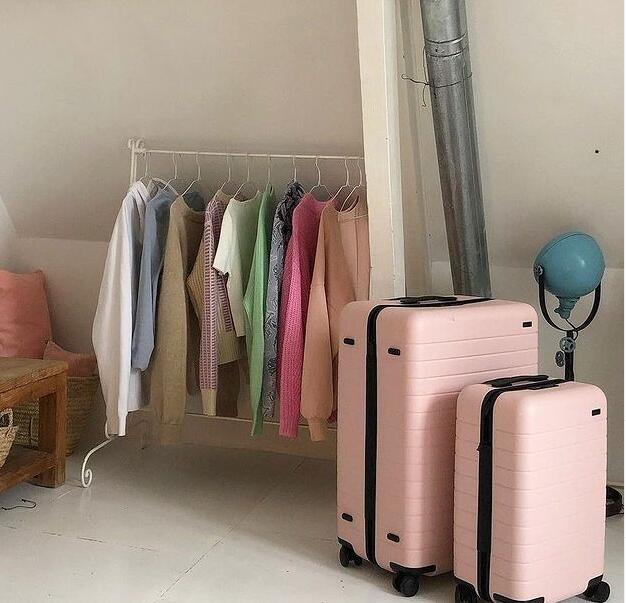 Source:Away Ins
Price
High-quality luggage can run upward of $600, but Away keeps its costs down by selling directly to the consumer. Away Suitecases only priced at $145-$595.
Designs

Since launching its suitcases, Away has added lots of useful products to its inventory. These include packing cubes to keep your clothes organized. There's also The Daypackand Everywhere Bag for shorter trips, plus a couple of tote bags and suitcases in Pantone's 2020 Color of the Year. If you decide to buy a set of Away suitcases, they'll stack like Russian nesting dolls for easy closet or under-bed storage.
One of Away's major selling points is the battery that comes built into either of its carry-on options. A phone-charging suitcase might seem like overkill, but it's actually really useful.
Sizes
Away suitcases come in four sizes, including a Medium and a Large version for checked baggage. With capacities of 68.8 liters (about 2.4 cubic feet) and 99.2 liters (3.5 cubic feet), these are excellent suitcases for longer trips.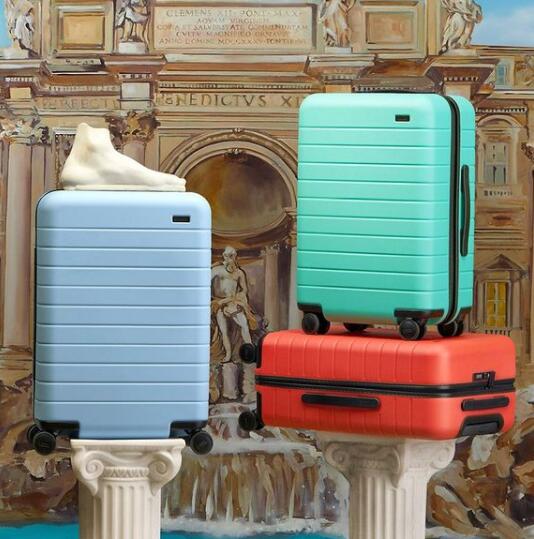 Source:Away Ins
Material & Durability
Each product features a lightweight, unbreakable polycarbonate shell and TSA-approved combination lock to keep your stuff secure. The ultra-light, ultra-durable suitcases made from German polycarbonate that feature 360-degree spinner wheels, along with interiors that include patent-pending compression systems, a removable laundry bag, mesh pockets.
Guarantee
You can return Away items up to 100 days after your purchase. All Away suitcases also come with a limited lifetime warranty (aside from the Mini, which, according to the brand, isn't subject to the same wear and tear as its full-size suitcases). This warranty covers any damage to the shell, wheels, handles, zippers, or anything else that functionally impairs your luggage. This doesn't concern The Large, but the electronic components (found in models like The Carry-On) all have a two-year warranty.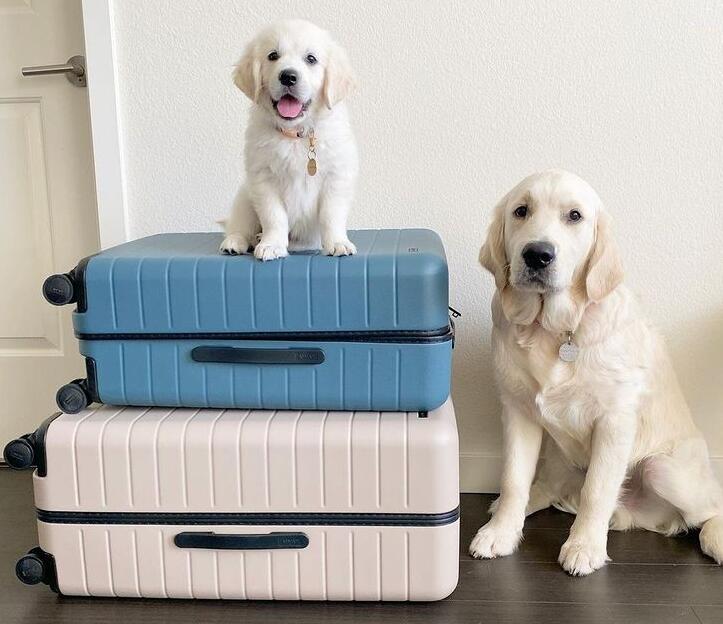 Source:Away Ins
Which Brand Makes the Best Suitecase?
Rimowa is a luxurious brand designed for World travels. It's more exclusive, stylish and expensive than Tumi, Samsonite, Away luggage. The Rimowa cases are all very similar in design and meant to be expensive top-end, robust suitcases that will last you for years. They also have some high-end features.
But if you're a fan of soft-sided suitcases, Rimowa is not the brand for you, and there aren't as many accessories available as some other brands. But Rimowa does also make weekenders, totes, packing cubes, and luggage tags.
Tumi: Combining a refined aesthetic with functionality and durability, Tumi has rightfully earned its place as a favorite among luxury travelers. With numerous options of all sizes for both hard-sided and soft-sided suitcases, Tumi has bags to suit just about all tastes. When we compare Tumi vs. Rimowa, you will notice that there are plenty similarities between these two bags, such as materials, dividers, Security features. Both of the brands also made sure that their luggage is secured enough by adding security features such as ID tags and TSA locks. But Tumi luggage is slightly cheaper and less durable than Rimowa in my opinion.
Samsonite offers everything from lower-end cases to the top-end Cosmolite, it is hard to generalise. Obviously the top end cases have better wheels and materials. The biggest advantage that you get, while purchasing a Samsonite luggage is that you get mid-range price coupled with the brands durability. Samsonite is known as the go-to luggage brand for those who want reliability at reasonable prices.
Away offers a much lower price as compared to other luggage brands available in the market. Away luggage and features a similar locking mechanism. And if you want to go even more affordable, try this brand. The brand name won't wow your friends like some of these other options, but it will certainly get the job done for years to come.
Where to buy Rimowa, Tumi, Samsonite, Away luggage the cheapest?
Shop on these site for the best worldwide choice of Luggages with good prices. You can enjoy up to 7% cashback by signing up at Extrabux.com! You can get it for even less.
24s.com (6-7% cashback)
neimanmarcus.com (2.5-3% cashback)
saksfifthavenue.com (3-4% cashback)
bergdorfgoodman.com (2.5-3% cashback)
tumi.com (4-5% cashback)
macys.com (2.5-3% cashback)
nordstromrack.com (3-4% cashback)
bloomingdales.com (1.5-2% cashback)
neimanmarcus.com (2.5-3% cashback)
belk.com (3-4% cashback)
samsonite.com (4-5% cashback)
bedbathandbeyond.com (Up to 4% cashback)
jcpenney.com (2-3% cashback)
bloomingdales.com (1.5-2% cashback)
walmart.com (3.5-4% cashback)
Read More:
Coach vs Tory Burch vs MCM Bag: Which Brand Is The Best? (History, Quality, Price & Design)
Goyard Saint Louis vs. Artois vs. Anjou Tote: Which is the Best Tote to Invest in (Sizes + Price)
Review: Miss Dior vs. Miss Dior Blooming Bouquet vs. Miss Dior Cherie vs. J'adore: Which is Best for You?
Lancome Teint Idole vs. Estee Lauder Double Wear vs. YSL All Hours: Which Foundation is Best for You?
Review: Ray Ban vs. Maui Jim vs. Oakley vs. Costa Del Mar: Which Makes the Best High-End Sunglasses Brand?
Goyard St Louis vs. Louis Vuitton Neverfull vs. Longchamp Tote: Which Will Stand the Test of Time?
Gucci GG Marmont Mini vs. YSL Lou Mini vs. CHANEL Classic Camera: Which is the Best Designer Camera Bag to Buy
Nars Sheer Glow vs. Mac Studio Fix Fluid vs. Bobbi Brown Skin Long Wear Foundation: Which is Best for You?
Best Hair Oil Reviews: Kérastase Elixir Ultime vs. Moroccanoil vs. Gisou vs. Olaplex No.7 Bonding Oil?
Rimowa vs. Monos vs. Briggs & Riley vs. Zero Halliburton: Which Brand is the Best Carry-On Luggage 2023?
How To Choose the Right Dior Foundation for Your Skin Type in 2023? (Review+ Sale +6% cashback)
Review: CHANEL No. 5 vs. Coco Mademoiselle vs. COCO vs. Gabrielle vs. Chance Perfume: Which is Best for You?
Parfum vs. eau de Parfum vs. Eau De Toilette vs. Cologne: What is the Difference, and How to Choose?
Coach vs. Kate Spade vs. Michael Kors Bag: Which brand is better? (History, Quality, Price & Design)
The North Face vs. Columbia vs. Patagonia: Which is the Best Outdoor Gear Brand?
UGG vs. Koolaburra by UGG vs. Bearpaw vs. Sorel: What's the Differences and Which is Best for You?
Which Foundation Is Best for You? Fenty vs Nars vs. Estee Lauder Double Wear?
Compare: Giorgio Armani vs. Dior vs. Charlotte Tilbury vs. Estee Lauder Double Wear Foundation, Which is Best?

Extrabux is an international cashback shopping site, offering up to 30% cashback from 10,000+ Stores!
24S, SSENSE, MATCHESFASHION.COM, Shopbop, NET-A-PORTER, FARFETCH, YOOX, Eastbay, End Clothing, Macys, Neiman Marcus, Saks Fifth Avenue, Saks OFF 5TH, Bergdorf Goodman, Selfridges, Bloomingdales, Coggles, Harrods, Kohl's, Urban Outfitters, ASOS, Missguided, etc.
Join to get $20 welcome bonus now! (How does Welcome Bonus work?)