Hoka Mach 5 vs. Clifton 8 vs. Rincon 3 vs. Carbon X2: Differences and Reviews 2023
Hoka is the fastest growing running brand in the world.HOKA running shoes are known for their oversized midsoles and smooth rides, making them ideal for a wide variety of running and training.The best HOKA running shoes share the same roots, but designers tune each model for specific attributes.There's pretty much a HOKA running shoe for everyone, no matter your needs.In this article, I'm comparing four of their popular lightweight, neutral trainers: the Mach 5 vs. Clifton 8 vs. Rincon 3 vs. Carbon X2.There are many similarities between the four, including tons of cushioning and surprisingly lightweight design.How does Hoka Rincon compare to Clifton?What is the difference between Hoka Mach 5 and Clifton 8?What is the difference between Hoka Clifton 8 vs. Rincon 3?What's the difference between Hoka Clifton 8 and Carbon X2?What's the difference between Hoka Rincon 3 vs. Carbon X2?Hoka Mach 5 vs. Clifton 8 vs. Rincon 3 vs. Carbon X2: which Hoka shoe has the most cushioning?Which is best for you?Let's have a closer look at the four Hoka shoes side by side.
Cover Photo:hoka.com
#

Hoka Mach 5 Review
Google Users Rating: 4.5/5
The lovechild of Mach 4 and Mach Supersonic, this lively pavement pounder is built for performance and ready to race. The Hoka Mach 5 is a lightweight, smooth-riding trainer which can fill a number of roles in your running rotation. Version 5 has a softer, supercritical layer of midsole foam, an improved fit and a lighter weight which makes it a great update. The version 5 delivers a snappier ride with PROFLY's stacked midsole setup, offering a lightweight, responsive foam directly underfoot and rubberized EVA below.It has a softer, supercritical layer of midsole foam, an improved fit and a lighter weight which makes it a great update.Much of the DNA from the 4 is carried over to the 5 and those that enjoy the Mach line will continue to be happy.
What sets the Mach apart is that it doesn't have a traditional sole setup of rubber attached to its midsole, it uses a firmer EVA foam as an outsole instead. This makes landings feel incredibly padded, smooth and very engaging.HOKA markets the Mach 5 as a "lively pavement pounder built for performance and ready to race."If you want to train with speed, it can be your trusty tempo running shoe. And if you want an easy-day or long-distance trainer, the Mach 5's cushy yet stable ride will serve you just right. Even better, it'll give you all the snappiness and energy return you need.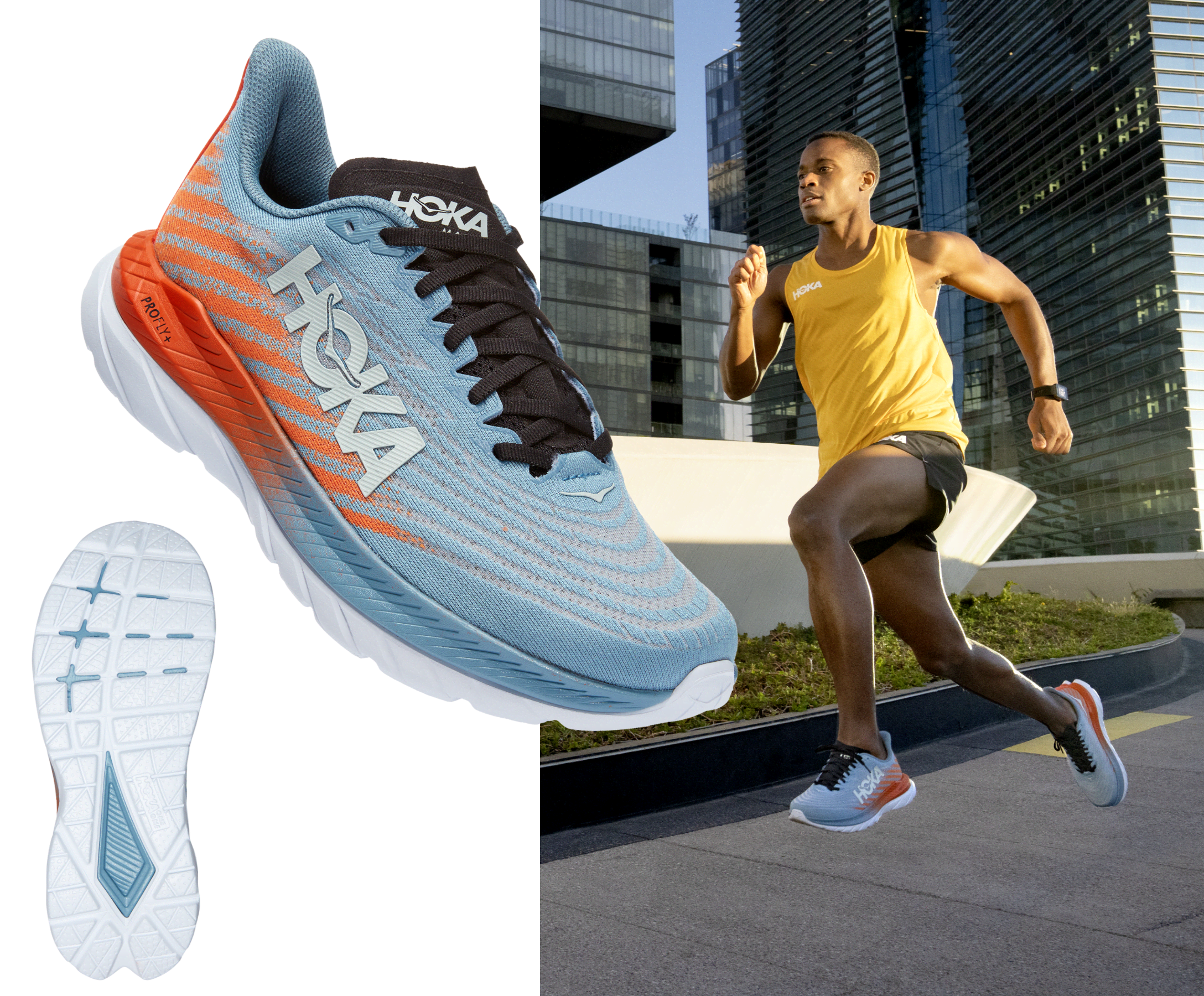 Source:hoka.com
Features:
Creel jacquard engineered mesh

Lightweight, resilient foam

PROFLY+ construction

Molded EVA sockliner

Rubberized EVA outsole

Vegan

Lay-flat gusseted tongue

Articulated heel collar
Hoka Mach 5 Pros and Cons
Pros

Cons

Delivers ultralight breathable comfort.

Runs and feels light.

Super fun and energetic ride.

Worth the money.

Cushioned for long runs.

Great versatility.

Super smooth transitions.

Provides a more secure fit.

Velvety smooth strides.

Reflective.

Spectacular foot lockdown.

Slips on wet pavement.

Overpriced for its lack of longevity.

Outsole durability still an issue.

Gets easily dirty.
#

Hoka Clifton 8 Review
Google Users Rating: 4.6/5
The all-new Hoka Clifton 8 distance running shoe is the latest update in HOKA's uber-popular maximalist Clifton series of distance running shoes.Crafted with a lighter, more responsive midsole and the same ride characteristics, the Clifton 8 features a streamlined silhouette and updated upper made from engineered mesh. It also keeps everything you love about the HOKA Clifton – namely the early stage meta-rocker, the maximalist-sized compressed EVA midsole, and the super-roomy toe box.Version 8 has a more padded tongue, better outsole rubber placement and it has a slightly faster feel because of its stiffer forefoot.
Whether it's a long-distance or recovery shoe you're after, the Clifton 8 comes highly recommended. It's a literal couch to the foot, keeping it cozy and stable. The ride is also buttery smooth, you will roll through seamlessly. And with all the cushion it gives, it's not at all heavy (a shocker really). The Hoka Clifton 8 is not made for speed or tempo runs but is a solid choice for a daily trainer, and it is great for easy, recovery miles.
Source:hoka.com
Features:
Breathable mesh upper

Early stage Meta-Rocker

Extended pull tab

Flat-waisted geometry

High-abrasion rubber

Gusseted tongue

EVA foam
Hoka Clifton 8 Pros and Cons
Pros
Cons

Lightweight for a daily trainer.

Great comfort.

More versatile than the previous version.

Bigger upper suitable for runners with wider feet.

Breathable (and vegan!) mesh.

More snappy forefoot.

Improved fit.

Impressive weight-to-cushion ratio.

Grippy outsole.

Great durability.

Smooth rockered ride.

The looser fit of the upper can be tricky to adjust for athletes with thin feet.

Low energy return.

Not very versatile.

Not made for speed.

Could give blisters.

Runs warm.
#

Hoka Rincon 3 Review
Google Users Rating: 4.5/5
The Hoka Rincon, which is inspired by the smooth waves of the world-famous Rincon surf spot, gets much of its DNA from the original (OG) Hoka Clifton. The Rincon has quickly become one of Hoka's most popular shoes due to its softness and lightweight.
The Hoka One One Rincon 3 is a multipurpose trainer that can handle almost any pace and any distance. Its strength is its lightweight build but its weakness is its lower than average durability.Version 3 is a big improvement over previous versions. It has a smoother ride, a more resilient midsole and a more durable outsole.Like the Clifton 8, the Rincon 3 offers a revamped EVA foam with a slight 4mm drop. However, this shoe is light as a freakin' feather.In addition to its feather-like feel, it still provides the infamous Hoka Cushion system with 33mm of heel stack height and 28mm of forefoot stack height, offering a low drop height of only 5mm.Like other Hoka models, this shoe sits on the meta-rocker platform that helps lead the foot strike forward and roll you through your stride.The Rincon 3 can be used for just about any type of run, from speed work to long slow training runs.
Source:hoka.com
Features:
Mesh upper

Asymmetrical tongue

Compression-molded foam midsole

Early state Meta-Rocker

Light Zonal rubber

Vegan

Molded EVA sockliner
Hoka Rincon 3 Pros and Cons
Pros
Cons

More durable than previous versions.

Very comfortable.

Stable and secure.

More spacious fit; also available in wides.

Wonderful breathability.

Soft feel.

Lightweight and responsive.

Good value for money.

Improved placement of lugs on outsole for durability.

Improved traction.

Lower durability than other daily trainers.

Tongue is not gusseted.

Runs small.

Fit narrow.

Slim tongue sometimes goes off-kilter midrun.
#

Hoka Carbon X2 Review
Google Users Rating: 4.5/5
Positioned as an endurance racer, the Carbon X2 delivers the same propulsive speed as its predecessor in an adaptable silhouette geared for training and racing alike. Engineered with a responsive, carbon fiber plate and aggressive Meta-Rocker, this performance shoe is a formidable competitor. The epitome of longrange weaponry, the Carbon X2 pairs softer, lighter foam with the same rubberized foam outsole as the last iteration. Scrutinized with a focus on fit, the Carbon X2 employs a refined collar shape, notched tongue and engineered mesh upper with embroidered TPU yarns and extra reinforcement around the laces. Get ready for an inherently soft, stable and responsive ride.
The Hoka Carbon X 2 is a high performance super shoe which specialises in ultramarathon distances. It has been updated with a more minimal upper and a softer midsole for better long-distance comfort.If you want a carbon-plated shoe that's built to go long and fast, the Hoka Carbon X 2 is an excellent pick. With its speed-enhancing features, the shoe shines at moderate to uptempo paces. Ensuring efficient strides, conserving the runner's energy is what the Carbon X 2 does best.
Source:hoka.com
Features:
Engineered mesh delivers breathable comfort

Gusseted tongue provides lightweight, mid-foot lockdown

Anatomical Achilles construction

Removeable, molded EVA sockliner

Carbon fiber plate delivers a smooth transition through the gait cycle

PROFLY midsole gives a cushioned landing and propulsive toe-off

Rubberized EVA outsole provides lightweight ground contact and responsive cushioning
Hoka Carbon X2 Pros and Cons
Pros
Cons

Wide midsole base with a stable ride.

Handy slip-on design.

Great foot lockdown.

Meta-Rocker provides a smooth, efficient ride.

Speed-friendly ride character.

Deep cushioning for ultra distances.

Secure upper fit.

Great heel hold.

Comfortable footbed.

Ventilated.

Lack of upper widths.

Not for wide-footed.

Heavy for a racing shoe.

Rubberised EVA outsole wears down quickly.

Insufficient wet pavement grip.
Where to Buy Hoka Shoes Cheapest?
Saving Tip:
If you like online shopping, don't forget to sign up at Extrabux!(What is Extrabux) , then you can enjoy up to 30+% cashback on your purchase from Extrabux! Sign-Up Bonus: Free to join it & get $20 welcome bonus! Student Benefits:As long as you are a student at school, you can get a free whole year long VIP Card worth $199.

Extrabux.com cooperates with many merchants, such as: Walmart (Up to 4% cashback), Sephora(4% -5% cash back),Dior (Up to 6% cash back), Moosejaw (5% -6% cash back), LOOKFANTASTIC (Up to 10% cash back), Microsoft (Up to 7% cash back) and so on. You can save on buying daily necessities, fashion, beauty, electronic products, broadband installation, mobile communication, air tickets, hotels and other aspects of life!
Hoka Mach 5 vs. Clifton 8 vs. Rincon 3 vs. Carbon X2: Comparision Side by Side
1.Specifications
| | | | | |
| --- | --- | --- | --- | --- |
| | Hoka Mach 5 | Hoka Clifton 8 | Hoka Rincon 3 | Hoka Carbon X2 |
| Heel-To-Toe Drop | 5mm | 5mm | 5mm | 5mm |
| Width | Regular/Wide | Regular/Wide | Regular/Wide | Medium |
| Weight | 8.20 oz(M);6.80 oz(W) | 8.90 oz(M);7.20 oz(W) | 7.70 oz(M);7.20 oz(W) | 8.40 oz(M);7.80 oz(W) |
| Color | 8 colors | 18 colors for men;17 colors for women | 12 colors for men;11 colors for women | Less colors |
| Stability | Neutral | Neutral | Neutral | Neutral |
| Flexibility | Medium | Medium | Flexible | Flexible |
| Cushion | Responsive | Balanced | Balanced | Responsive |
| Best For | | | | |
| Price | $140 | $111.99 | $125 | $134.99 |
2.Construction and Material
Hoka Mach 5 - The upper of the Mach 5 is also made of engineered mesh but its upper is not as padded as the upper of the Clifton 8 so it's more breathable. It has a thin, flat tongue which is also gusseted and foot lockdown is also superb.
Hoka Clifton 8 - The Clifton 8 has a new engineered mesh upper with improved ventilation. The Clifton 8 has a padded heel counter which locks down the heel well and a padded tongue which is not sleeved.
Hoka Rincon 3 - The Rincon 3 upper has been fine-tuned even more for performance. Everything from the improved 100% vegan sandwich mesh, the thin, asymmetrical tongue and the minimalistic heel tab reduces weight and increases breathability.The fabric feels a little less premium to the touch compared to the Clifton 8, though it is softer than previous versions of the Rincon.
Hoka Carbon X2 - The Carbon X2's upper can be best described as minimal and in this case, less is more.It's made of a thin single-layer, breathable mesh and has a comfortable fit. My favourite element of the upper is the large reflective patch on the tongue which is a tell tale sign that it was designed to be used for training even though it has a carbon plate.
Hoka Mach 5 - The Mach 5 has a dual foam PROFLY+ setup with softer foam on the top layer and rubberised EVA on the bottom. The midsole of the Mach 5 is not as thick as that of the Clifton 8 but it still packs plenty of cushioning.Not only is the Mach 5's midsole thinner so your foot sits closer to the ground, but there is also no outsole rubber on it so you have a better feel of the surfaces below your feet.
Hoka Clifton 8 - The Clifton 8 has an oversized EVA compression midsole with a thick stack height. The Clifton 8 has a Metarocker which smoothes the heel-to-toe transitions and the midsole of the Clifton 8 feels soft in the forefoot and heel but doesn't feel mushy. It gives you some responsiveness with plenty of deep cushioning without any bottoming-out flatness.
Hoka Rincon 3 - Rincon 3 is also made of highly compressible EVA foam. It is better suited to shorter, faster runs because its midsole is more responsive and it has a lighter weight compared to the Clifton 8.The Rincon 3 has a lot more exposed midsole foam which shreds over time as it scrapes surfaces.
Hoka Carbon X2 - The dual foam midsole of the Carbon X2 is noticeably softer and more cushioned than the Carbon X. Not only is the compression molded EVA a lower density but the ratio of CMEVA to firmer rubberised EVA has been modified.Stability in the Carbon X2 is excellent thanks to its wide midsole base so it remains one of the most stable super shoes on the market.The carbon plate in the Carbon X2 has been moved downwards and is situated between the two foams which also contributes to the softer ride.
Hoka Mach 5 - Mach 5 doesn't have any outsole rubber on its outsole: it only has rubberised EVA foam which wears down much faster than traditional rubber lugs.
Hoka Clifton 8 - The Clifton 8 has high quantities of blown rubber in the outsole but places it a bit more strategically than in the Clifton 7 to make the midfoot area of the outsole less delicate. The blown rubber from the forefoot extends all the way around to the lateral sides of the midfoot, reinforcing this area of the outsole.In addition, the grooves and lugs in the forefoot of the Clifton 8 are diagonal, instead of horizontal like in the Clifton 7. This makes the forefoot feel a bit stiffer and provides more responsiveness during transitions because there is more resistance during flexion.
Hoka Rincon 3 - There are very important updates to the outsole of the Rincon 3. There is more rubber, covering the high wear areas, and the forefoot lug configuration has also changed.The outer lateral heel area, which is typically the highest wear area of an outsole, now has rubber coverage. The entire forefoot also has rubber lugs now.Outsole durability is still below average due to the high amount of exposed midsole foam so if you're looking for a durable workhorse that can handle over 800 kilometres, the Rincon 3 isn't the shoe for you.
Hoka Carbon X2 - Soft, padded landings are what you can expect from the Carbon X2 because its outsole is missing blown and carbon rubber which is great for when you want to sneak up behind runners to overtake them.When it comes to outsole durability, as you'd expect, the rubber EVA wears down quickly.
3.Fit and Sizing
Hoka Mach 5 - The Mach 5 fits true to size and is not as narrow as the Clifton 8. It's not available in additional widths.
Hoka Clifton 8 - The toe box of the Clifton 8 is wider than previous versions but in general the Clifton 8 has a narrow fit so order the wide version if you don't have narrow feet. The Clifton 8 fits true to size.
Hoka Rincon 3 - The Rincon definitely runs narrow with even the wide version being too tight in the mid-foot for runners with very wide feet.
Hoka Carbon X2 - The fit is on the narrow side so it might not be suitable for wide-footed runners but there is plenty of toe box depth.
Conclusion: Which is Best for You?
At the end of the day, these shoes are very similar. It will come down to personal preferences.
If you're looking for a lighter trainer that can handle fast-paced runs better, the Mach 5 is the better option. Its PROFLY+ midsole has excellent responsiveness which makes it easy to pick up the pace. The Mach 5 has a lighter, more breathable upper which is more comfortable.The Mach 5 is not as stable but it's the lighter, more versatile trainer.
If you're a runner looking for a highly cushioned daily trainer for mostly easy or recovery runs, the Clifton 8 is the right shoe for you. It has deep cushioning, a comfortable, plush upper and a durable outsole.The Clifton 8 is also more stable than the Mach 5 and Rincon 3.
If you're a runner looking for a more versatile trainer which is lightweight and responsive, the Rincon 3 is the shoe for you. The Rincon is lighter, more noble, and designed with more spring. They feel faster.
The Hoka Carbon X 2 might suit you well if:
A shoe that offers ample airflow to keep your feet fresh and cool.


Daily errands require you to change footgear every so often that an easy-to-put-on pair would be convenient.

You are looking for a shoe that could handle marathon and above-marathon distances.

You like running on pavements.
Top 8 Best Hoka Shoes for Nurses with Plantar Fasciitis for Walking or Standing 2023
Asics Nimbus 24 vs. Brooks Glycerin 20 vs. Hoka Clifton 8 vs. New balance 1080: Differences and Reviews 2023
Ryka vs. Nike vs. Asics vs. Hoka Walking Shoes: Which is the Best for Women to Wear All Day?
Hoka Clifton 8 vs. Clifton 7 vs. Bondi 8 vs. Bondi 7: Differences and Reviews 2023
Brooks Ghost 14 vs. Hoka Bondi 7 vs. Asics Nimbus 23 vs. Nike Pegasus 38: Differences and Reviews 2023
OOFOS vs. Hoka vs. Crocs vs. Birkenstock: Which is Best Suitable to You?
Skechers vs. New Balance vs. Hoka vs. Allbirds: Which is Most Comfortable for Daily Walking and Running?
HOKA vs. Brooks vs. On Cloud vs. New Balance: Which Brand is Best for You?

Extrabux is an international cashback shopping site, offering up to 30% cashback from 10,000+ Stores!
24S, SSENSE, MATCHESFASHION.COM, Shopbop, NET-A-PORTER, FARFETCH, YOOX, Eastbay, End Clothing, Macys, Neiman Marcus, Saks Fifth Avenue, Saks OFF 5TH, Bergdorf Goodman, Selfridges, Bloomingdales, Coggles, Harrods, Kohl's, Urban Outfitters, ASOS, Missguided, etc.
Join to get $20 welcome bonus now! (How does Welcome Bonus work?)