Nescafe Gold vs. Classic vs. Original vs. Taster's Choice: Differences and Reviews 2023
NESCAFÉ is the world's favourite coffee brand, enjoyed in over 180 countries worldwide. With over 80 years of experience in selecting, roasting and blending the very best coffee, it's no surprise that over 5,500 cups of Nescafé coffee are drunk every second! Nescafé instant coffee are consumed with different varieties catering to different tastes and preferences around the globe.Come get your much-needed caffeine boost with the NESCAFÉ Classic today! So which instant coffee is the best? Is it cheap or expensive? How should I choose between Classic and Gold? The following is the test review and purchase guide of Nescafé!

SPEAKING FROM MY EXPERIENCE
The brand NESCAFÉ is cheap and acceptable! I used to drink Nescafé Classic but it was a bit harsh, then switched to the slightly more expensive Nescafé Gold and found it to be a good substitute.
Next, I dutifully drank and enjoyed Nescafé Gold for years, one to two glasses a day. But since 2018 I have noticed that its color, aroma and taste have changed. It left a bitter aftertaste which made me think they used different beans.
So is Nescafé Gold worth paying more than Nescafé Classic?
Therefore, I will introduce these two coffees in detail. If you have difficulty choosing, you can get some information and comparison from the article for reference!
Best instant coffee brand - Nescafè
Coffee purists often dislike instant coffee. That's because it's usually more bitter, harsher, and far less satisfying than freshly brewed coffee. However, there's no denying that it's an inexpensive and easy option for those in need of hassle-free coffee.
Because of this, we're not opposed to using instant coffee now and then, and occasionally, it's even the best option. So how to choose instant coffee? There are many instant coffee brands on the market and we think Nescafè can have a place!
Do you feel like a sloth in the morning? Are your mornings dull and lethargic? For some of us, this is the truth about how our mornings begin. Brighten your mornings or lift your spirits at any point of time in the day with a cup of Nescafe coffee. Nescafe has ensured that people around the world get to enjoy some of the best coffee flavours with its lineup of coffees, such as Nescafe Sunrise, Nescafe Classic, and Nescafe Gold Blend, among others.
Is Nescafe a good coffee?
NESCAFÉ® is an instant coffee that is the world's best-selling coffee brand.
One of Nescafe's best assets is its accessibility, which is something that coffee drinkers from all over the world appreciate about the company.
Instant coffee contains slightly less caffeine and more acrylamide than regular coffee, but it contains most of the same antioxidants. Overall, instant coffee is a healthy, low-calorie beverage that is linked to the same health benefits as other types of coffee.
History of Nescafé: The Biggest and Most Popular
Nescafé is a brand of coffee made by Nestlé. It comes in many different forms. The name is a portmanteau of the words "Nestlé" and "café".
Since 1938, NESCAFÉ has been at the forefront of coffee innovation. The first coffee brand to develop freeze-dried coffee, the first coffee brand to climb Mount Everest.
Their products have even been sent into space - Neil Armstrong famously drank a cup of NESCAFÉ coffee after stepping on the moon.
They didn't stop there. Always looking to the future, they are committed to 100% responsibly sourced coffee by 2025.
For most people, Nescafé has long been their go-to coffee brand and has stayed true to the brand.
NESCAFÉ CLASSIC is 100% pure coffee made from carefully selected coffee beans picked from the finest plantations, blended and roasted to perfection to create the unique rich and smooth NESCAFÉ taste.
High quality and sustainably sourced from countries like Colombia, Brazil, Honduras, Vietnam and Indonesia.
Money Saving Tips First:
In fact, you can save up to 100% on online shopping at home and abroad!
Such a high amount of cash back comes from Extrabux (What is Extrabux?), it also offers coupon codes and recent promotions, and brings together 10,000+ sites (US, China, UK, Japan, Australia , Germany, France, Italy, etc.).
Just sign up for an Extrabux account and earn exciting cash back every time you place an order via the relevant link. Sign-Up Bonus: Join for FREE & Earn $20 Welcome Bonus today! Then earn $5 Friend Referral Bonus!
Whether you are buying cheap domestic products, international luxury goods, or buying mobile phones, computers, refrigerators, washing machines, clothes, shoes, bags, mother and baby products, snacks, drinks, or booking air tickets, hotels, car rentals, or registering services and memberships , you can save money on all related purchases - save $1,000 a year!
Difference Between Nescafe Classic and Clasico
Nescafe Classic and Nescafe Clasico are instant gourmet coffees produced by Nescafe USA. The two products look similar and are made in the same way—but they taste slightly different.
Nescafe Classic
($11.69 FROM eBay - Get Up To 5% Cash Back & Save 10%)
Nescafe Classic draws on the original Nescafe coffee, released in 1938, that established the brand. Nescafe briefly disappeared from shelves, replaced with a similar Nestle instant coffee product called Taster's Choice. Nestle brought back the Nescafe name with the word "Classic" added to the label of one of its products, a means of assuring consumers that it still has the flavor of the classic product. Nescafe Classic uses medium-dark roasted coffee beans for a robust flavor and an aroma described as "comforting and intense."
Nescafe Clasico
($6.68 FROM Walmart - Get Up To 3% Cash Back)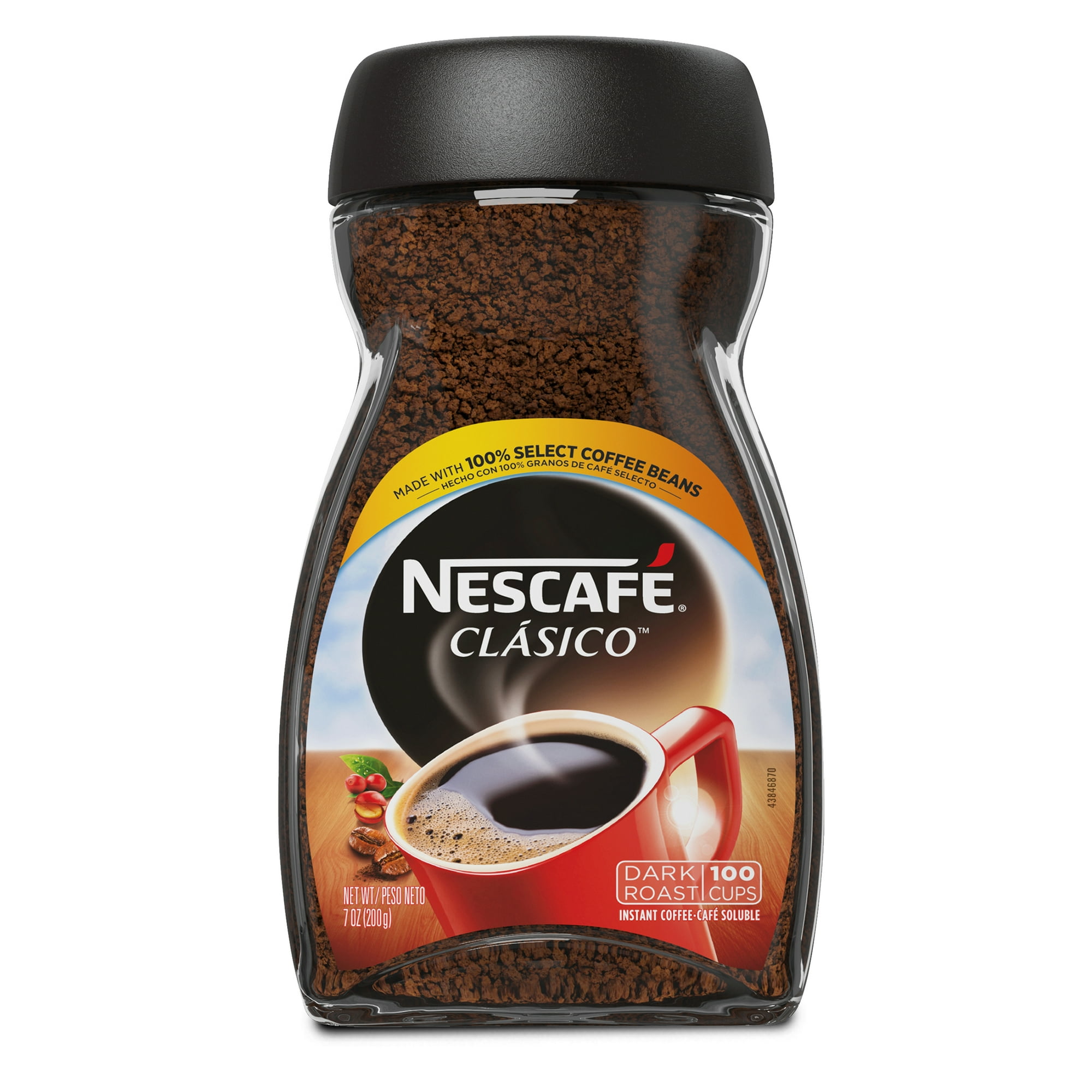 Nescafe Clasico is targeted toward the Latino-American population and is the top coffee brand among Latinos in America. Clasico features a bold flavor that comes from dark-roasted coffee beans. The dark roast results in a full-bodied coffee with a bolder flavor than Nescafe Classic. When blended with sugar, Nescafe Clasico is comparable to a cafe Cubano or cafecito, a strong, sweet espresso drink popular in Cuba. In addition to original Nescafe Clasico, Nestle makes Nescafe Clasico Decaf, which has a similar flavor without the jolt, and Nescafe Classico Suave, which has a smoother flavor than bold Clasico.
Difference Between Nescafe Classic and Original
Nescafé Classic is specially designed for New Zealand tastes, whereas Nescafé Original is an international variant that is also available in other markets. The blend of coffee beans used is different between the two products.
NESCAFÉ Classic
($11.69 FROM eBay - Get Up To 5% Cash Back & Save 10%)
Start your mornings right with a freshly prepared cup of fragrant and robust NESCAFÉ Classic! Each cup delivers its signature NESCAFÉ coffee aroma and taste that awakens and stimulates your senses. The NESCAFÉ Classic signature blend is made from a mix of high-quality Arabica and Robusta coffee beans that are 100% responsibly sourced. The unique split roasting process locks in the strength of both coffee beans' flavour and aroma to bring out the best of both worlds for the cup that Malaysians love.
NESCAFÉ® Original
With its rich flavour and unmistakable aroma, there's good reason why NESCAFÉ Original is the tried and tested Nation's favourite coffee.
Do you know? Nescafé Original changed its recipe.
The new product now has a distinct red lid instead of the old brown one.
After one fan tried the flavor of the new product, he said it "Really does taste like dishwater. I cannot understand how you can call it 'Nescafé Original' when you have changed it. Just doesn't make sense."
While staying true to the distinctive full and bold flavour its fans know and love, the Nescafé Original signature recipe is now smoother. Carefully selected high-quality Arabica and Robusta coffee beans have been roasted separately using a new roasting technology, creating Nescafé Original's perfect bold flavour, now with a smoother taste.
Bruna Goncalves, Brand Manager for Nescafé Original at Nestlé UK, said:
"We know that Nescafé Original has many loyal fans and we are always trying to make our products better for them. Following extensive consumer research, we introduced a new roasting technology that improves the taste of our coffee. Our recipe now captures the fullest flavours and aromas of freshly ground coffee, making an even smoother cup of Nescafé Original. We hope coffee drinkers out there will love it as much as we do."
Difference Between Nescafe Gold and Gold Blend
Gold Blend is a British brand, while Gold is used throughout Europe. Same blend, just a different name.
Do you know? Nescafé Gold changed its recipe.
Likewise, Nescafé has made some changes to its Gold range of instant coffee — with results that aren't to everyone's liking.
Its recipe has been changed, and now includes Arabica beans that are ground ten times finer.
According to Nescafé, this crafting process allows for "the soul of the bean to be revealed for a finer and fuller taste".
New Nescafe Gold blend is bitter and horrible. From hero to zero. Where can we still get old blend/similar smooth taste?
Seasoned instant coffee shoppers also criticised the price points of the new Gold flavours.
The Gold range now consists of four distinct flavours and one decaffeinated version pretending to be coffee, all of which retail for around 60% more than Nescafé Classic, the band's workhorse.
It is now packaged with a new "brushed champagne gold lid and sleek shape".
The flavours are very different, both in marketing and reality. Gold is a blend of Arabica and Robusta beans that Nescafé promises gives a "rich, yet smooth and rounded taste". Alta Rica, on the other hand, is 100% Arabica sold as having an "intensity of flavour".
Nescafe Gold vs. Classic
Now, it's time to list the ratings for these two coffees!
#1.

Nescafe Gold - 7/10

★★★★★★★




($21.75 FROM Walmart - Get Up To 3% Cash Back & Save 10%)
Nestle's Gold is one of my favorite instant coffees. One of the most important things about coffee is the smell, and Nescafe Gold has one of the best aromas in most coffees. It's not overpowering, but it definitely has that classic coffee smell I expect — it would have you crawling out of bed in the morning.
Nescafe Gold is a premium instant coffee brand that is known for its smooth, creamy taste, which is achieved through a special roasting and grinding process.
The coffee has a rich, full-bodied flavor with notes of chocolate and nuts, and has a velvety texture that is smooth and easy to drink.
Nescafe Gold has a hint of sweetness alongside the traditional bitter taste, which helps to mask some of the unpleasant aftertaste that can be overwhelming in other coffees.
The flavor is well-balanced and not too strong or bitter, making it a perfect choice for those who prefer a milder, more refined taste.
The caffeine content of Nescafe Gold is moderate and similar to the caffeine content of brewed coffee, and the quality of the coffee is excellent. A medium roast blend, Nescafe Gold has about 60-80 mg of caffeine per teaspoon. Using the instant mix, you'd require 1.5 teaspoons for a standard cup. Therefore, each cup offers an average of 105 mg of caffeine.
Nescafe Gold is made from a blend of arabica and robusta coffee beans. Arabica beans are generally considered to be of higher quality than robusta beans and have a milder, more refined flavor. Robusta beans, on the other hand, are known for their strong, bold flavor and high caffeine content.
The packaging is also well-designed, with a sleek and modern look that is easy to store and use.
In terms of price, Nescafe Gold is more expensive than some of the other options on the market. However, many coffee drinkers are willing to pay a higher price for the excellent taste and quality of Nescafe Gold.
To make a cup of Nescafe Gold, simply add 1 tsp (1.8 g) of the coffee to a mug, then pour in hot water and stir. The coffee will dissolve instantly, creating a smooth, creamy drink that is ready to be enjoyed. Nescafe Gold can also be prepared with milk or a non-dairy milk alternative for a creamier, richer flavor.
Nescafe Gold is widely available in many countries around the world, making it a convenient and accessible choice for coffee drinkers. It can be found in supermarkets, convenience stores, and online retailers.
Some customers have also commented on the brand's commitment to sustainability and ethical sourcing practices, which is an important factor for many coffee drinkers.
#2.

Nescafe Original - 6/10

★★★★★★

Nescafe Original is the basic version of the Nescafe coffee range, and it is priced significantly less than Nescafe Gold around the world.

But the cheaper alternative is also lackluster in terms of taste as it is not as smooth as the Nescafe Gold variety.

In fact, Nescafe Original has a strong earthy and bitter taste that will leave an aftertaste in your mouth, making you feel strong coffee flavors throughout the day.

It's not entirely unpleasant, and if you like bitter coffee, this is definitely a better coffee for you than the Nescafe Gold alternative.

Nescafé Original coffee beans have been grown, made and packaged in a way that respects the environment and the people who farm the coffee beans.

Nescafé Original coffee jars are made using recycled glass, and a recent Which? research confirmed that the Nescafé Original jar is one of the most recyclable household products, its packaging is 100% recyclable in the UK.

Coffee beans for Nescafé Original are sourced responsibly through the Nescafé Grown Respectfully Plan, ensuring the conservation of natural resources to protect soil health and crop growth.



#3.

Nescafé Classic - 5/10

★★★★★

It's official: This signature nescafé coffee has a distinct, bold flavour and unmistakable aroma that comes from a blend of high quality arabica and robusta beans. A medium roast gives it a full-bodied flavour and rich aroma.

Offers the perfect workplace/employee lounge staple at great prices with no compromise on taste. It's definitely not as good as luxury coffee, but it's definitely not the worst on the shelf.

Sweet and neutral in the cup; tastes more like malted, toasted grain than coffee.

This makes us suspect that Nescafe classic is made from Robusta coffee beans. Nescafe classic silently went from better-tasting Arabica beans to relatively inferior Robusta beans. Robusta beans, while stronger in flavor, are cheaper and less flavorful.

It is spray dried. Compared to its better cousin, freeze drying, spray drying is clearly inferior. It will lose all the oils, flavor and taste.

Because of the spray drying process, all the aroma and taste is gone, so they draw back some of the aroma before the lid is put on, so that when you open the lid, you can experience the original taste of the coffee.

The acidy sensation is flat, barely there, leanish mouthfeel.

The Nescafe classic and Nescafe gold instant coffees contain 50 mg to 90 mg per 2g serving. Similarly, its 3-in-1 sachets offer 28 mg of caffeine per 100 ml.



What are the best Nescafe coffee flavors?
#1.

Nescafé Azera

($42.96, Pack of 6 FROM eBay - Get Up To 5% Cash Back)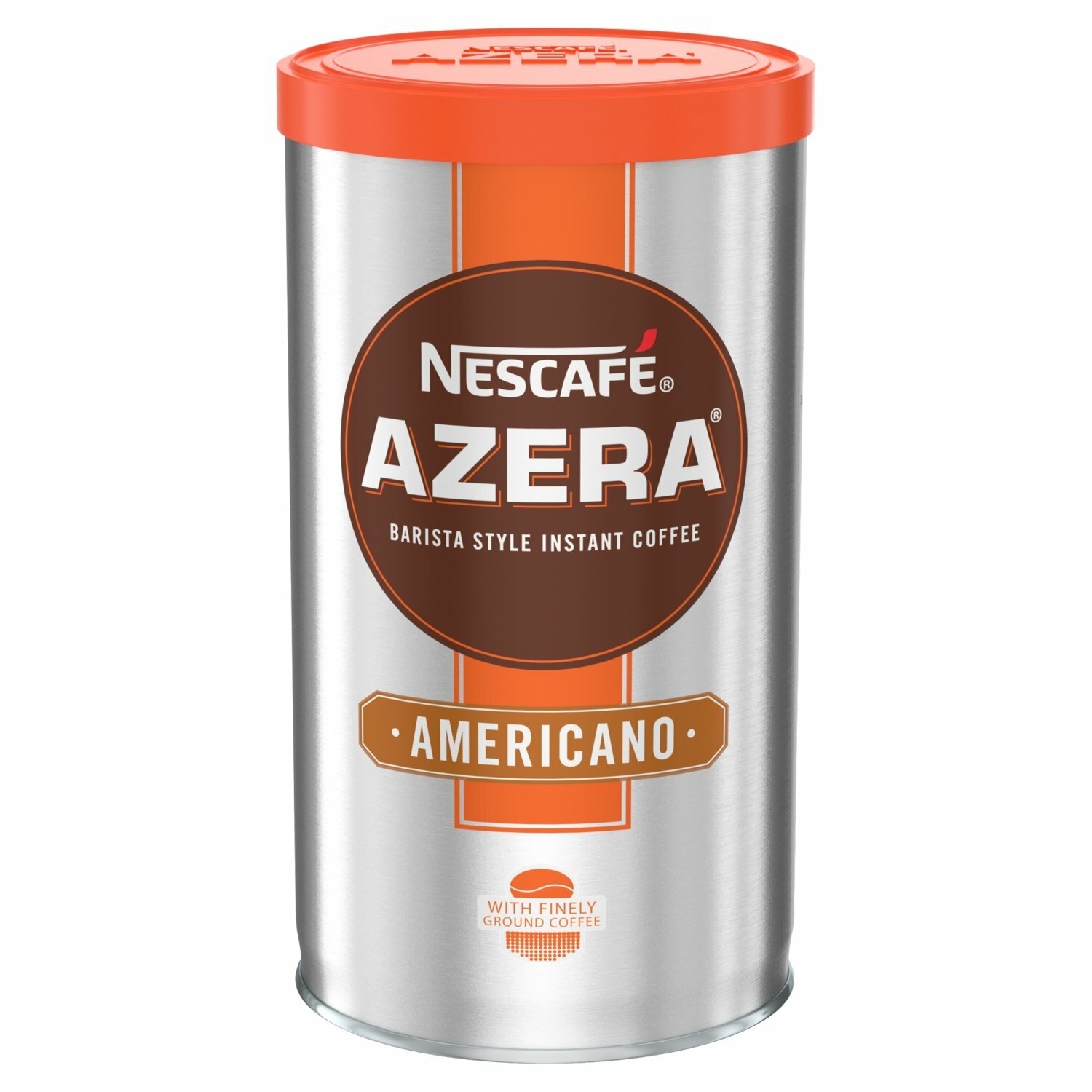 After trying so many Nescafés, besides Nescafé Gold, I think Nescafé Azera is worth recommending. I will give it a high rating.
It is a medium-dark roast with good flavor and balance. It's less harsh with a more clean and full aftertaste.
This coffee can be served black or with milk. While it wasn't as good as the top coffees, price aside, it tasted less like instant coffee and more like regular coffee.
#2.

NESCAFÉ® TASTER'S CHOICE® 100% Colombian Instant Coffee

($9.98 FROM Walmart - Get Up To 3% Cash Back & Save 10%)
NESCAFÉ Taster's Choice Colombia, handpicked by local Colombian farmers and made with 100% arabica beans, resulting in a cup of coffee that delights the senses with its fruity and aromatic flavor.
Nestle originally launched a freeze-dried coffee brand called Taster's Choice in 1966. Nowadays, it is extensively available. It is also very inexpensive and a great choice for people who want a quick, no-frills cup of instant coffee.
The most significant difference between Nescafé Gold and Taster's Choice is the process of micro-grinding. As a result, Nescafé Gold has a fuller body, while the latter offers a lighter cup.
The aroma is a little offputting. The coffee's aroma bears similarities with the classic Nescafe instant coffee, which isn't particularly inspiring. However, what it lacks in smell it makes up for in flavor. There was no bitterness or harshness.
As the beverage cooled, the acidity came to the fore. On the whole, the coffee has a nice balance of sweetness and acidity and isn't too bitter.
The coffee is not particularly robust, but it is smooth. However, it might be too weak for some palates.
#3.

Nescafé Clásico: Dark Roast
We think Clásico is better than the Taster's Choice line.
These dark particles are mixed with hot water to create the typical coffee aroma. There's a faint smell of smoke, but other than that, you can't tell if it's an instant coffee cup or the real thing. Taste slightly artificial, but noticeably better than Taster's Choice.
Overall, this instant coffee isn't great, but it's not bad either.
#4.

Nescafé Taster's Choice: House Blend

($23.67 FROM Walmart - Get Up To 3% Cash Back & Save 10%)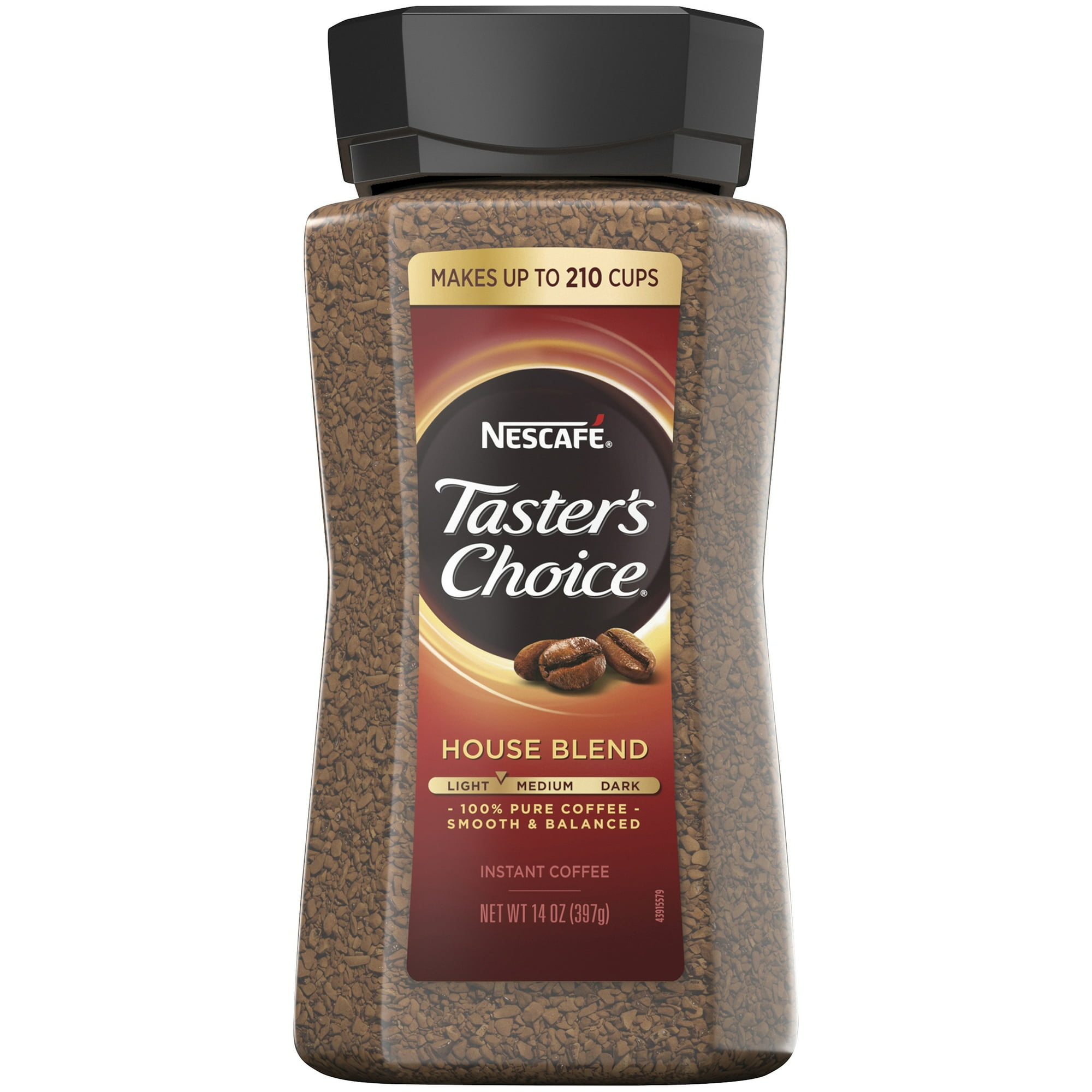 The house blend promises smoothness and balance. When mixed with light golden granules in hot water, it produced a not-so-pleasant bean aroma.
Fortunately, the taste is not so offensive. Although the taste is mild at first, it will become more bitter as it cools, so please drink it as soon as possible.
What is the difference between NESCAFÉ Rich and NESCAFÉ Taster's choice?
The main difference is that NESCAFÉ Rich is spray dried coffee and NESCAFÉ Taster's Choice is freeze dried.
What is the difference between spray dried coffee and freeze dried coffee?
An important step in the NESCAFÉ process is drying the coffee. During this step we lock in the flavour ensuring it is perfectly preserved until it is ready to be consumed. There are two methods used to dry the coffee: spray drying and freeze drying.
When we spray dry the coffee, we use heat to evaporate the water from the coffee. This is done very quickly in a tower by spraying the coffee into warm air. This results in coffee with a darker color and texture like NESCAFÉ Rich. We can also freeze dry the coffee. In this case we freeze the coffee, which separates water from the coffee solids and turns it into ice crystals that contain only pure water. We then carefully remove the ice crystals using a process called sublimation which turns them from a solid directly to a gas. This process is very gentle and preserves the finest quality of our premium coffees like NESCAFÉ Gold.
Where are your products made?
NESCAFÉ products are made in various countries: Canada, USA, UK, France, Brazil, Germany, Hungary, Spain, Poland, Japan and Korea.
Is there a difference between NESCAFÉ Tasters Choice and NESCAFÉ Gold?
There is! The main difference between NESCAFÉ Tasters Choice and NESCAFÉ Gold is the Microgrind process. That means we take Arabica beans and grind them 10 times finer than regular coffee. This process makes for a more full-bodied coffee experience.
If you aren't a fan of the microgrind, we still have options that we think will suit your taste. We recommend trying NESCAFÉ Taster's Choice coffee because it doesn't have the grinds at the bottom and will be a lighter cup of coffee.
What is the difference between NESCAFÉ Rich and NESCAFÉ Taster's choice?
The main difference is that NESCAFÉ Rich is spray dried coffee and NESCAFÉ Taster's Choice is freeze dried. This is the technical process that goes into producing the coffee and that is why the granules appear different. Freeze dried is considered to be more premium and high quality, which is why NESCAFÉ Taster's Choice is more expensive than NESCAFÉ Rich.
What is the difference between NESCAFÉ Sweet & Creamy and NESCAFÉ RICH?
NESCAFÉ Sweet & Creamy is a blend of beans from Brazil, dark roasted similar to NESCAFÉ Rich. NESCAFÉ Sweet and Creamy is all in one solution, with coffee, cream and sugar. NESCAFÉ Rich is a line-up of black and flavoured coffees.
Is there any difference between the NESCAFÉ Gold Espresso in Canada and the NESCAFÉ Gold Espresso Italy?
Both products are made at the same facility, so you can enjoy the same familiar taste whether you've purchased it in Canada or Italy!
What is the caffeine content for all of your NESCAFÉ products?
A serving size is typically one rounded teaspoon. This guide shows approximately how much caffeine is present in a typical 6oz serving of prepared coffee. Amount is in milligrams.
NESCAFÉ Colombian: 80-100 mg
NESCAFÉ Decaf: > 5 mg
NESCAFÉ Espresso: 90–110 mg
NESCAFÉ Dark Roast: 60–80 mg
All NESCAFÉ SSOD/Single Serve on Demand coffee products (capsules): 80–100 mg
Other articles you might enjoy:

Extrabux is an international cashback shopping site, offering up to 30% cashback from 10,000+ Stores!
Squarespace, SkinStore, MATCHESFASHION, The Wall Street Journal, NordVPN, Visible, Armani Exchange, Sam's Club, PUMA, AliExpress, Card Cash, NET-A-PORTER, Udacity, Udemy, Selfridges, LOOKFANTASTIC, Vimeo, Coach Outlet, lululemon, PrettyLittleThing, Booking.com, Ripley's Aquarium, iHerb, Groupon, etc.
Join to get $20 welcome bonus now! (How does Welcome Bonus work?)