It contains affiliate links and Extrabux will be compensated if you make a purchase after clicking on Extrabux links.

Liposomal Vitamin C vs. Ester-C vs. Regular Vitamin C: What's the Difference? Which Should I Choose?
Vitamin C is an essential nutrient for many aspects of health including your immune system. It helps form and maintain bones, skin, and blood vessels. It is also an antioxidant. Humans are in a small minority of mammals that can't produce their own Vitamin C; it's also water soluble and can't be stored in the body. This means it must be regularly supplied by the diet. However, we cannot guarantee that we can get enough Vitamin C from our daily diet, especially for special groups, such as the elderly, pregnant women, and people with poor absorption. Therefore, those who lack Vitamin C must get it from supplements. The most common types of vitamin C supplements on the market are Liposomal Vitamin C, Ester-C, and Regular Vitamin C. What's the difference between them? Which type is best for you? Here we will compare these three types of Vitamin C to help you find the best supplement for your daily life.

Benefits of Vitamin C
Vitamin C serves several purposes within your body. Such as:
1. Immunity: Vitamin C plays an important role in keeping your immune system functioning normally. A healthy immune system is more resistant to viruses and bacteria and may reduce your risk of getting sick. In addition to vitamin C, other nutrients like vitamin D and zinc are vital in supporting a healthy immune system.
2. Collagen production: Collagen is the most abundant protein in your body. It helps to provide strength and structure to your bones, skin, joints, cartilage, and more. Getting enough vitamin C may support your body in making the collagen it needs. Collagen production plays an important role in keeping many different parts of your body healthy, strong.
3. Antioxidant: Vitamin C, an essential vitamin that our body cannot produce on its own, is known for its antioxidant properties, which limit the damage done by free radicals while supporting immune function and overall well-being.
Vitamin C Side Effects
When taken at appropriate doses, oral vitamin C supplements are generally considered safe. Taking too much vitamin C can cause side effects, including:
Nausea, vomiting and diarrhea

Heartburn

Stomach cramps or bloating

Fatigue and sleepiness, or sometimes insomnia

Headache

Skin flushing
In some people, oral vitamin C supplements can cause kidney stones, especially when taken in high doses. Taking more than 2000 mg daily is possibly unsafe and may cause kidney stones and severe diarrhea. In people who have had a kidney stone, taking amounts greater than 1000 mg daily increases the risk of getting more kidney stones.
Tell your doctor that you're taking vitamin C supplements before having any medical tests. High levels of vitamin C might interfere with the results of certain tests, such as stool tests for occult blood or glucose screening tests.
Dosage of Vitamin C
The Institute of Medicine (IOM) has developed a set of reference values for specific nutrient intake levels, including for vitamin C. Vitamin C is an important nutrient. Fresh fruits and vegetables, especially citrus fruits, are good sources of vitamin C.
One set of guidelines is known as the Recommended Dietary Allowance (RDA) and considers average daily nutrient intake from both foods and supplements. RDA recommendations for specific gender and age groups should meet the nutrient needs of 97–98% of healthy individuals.
Here are the RDAs for vitamin C for the different life stages:
Life stage
RDA

Kids (1–3 years)

15 mg

Kids (4–8 years)

25 mg

Adolescents (9–13 years)

45 mg

Teens (14–18 years)

65–75 mg

Adult women (aged 19 and older)

75 mg

Adult men (aged 19 and older)

90 mg

Pregnant women (aged 19 and older)

85 mg

Breastfeeding women (aged 19 and older)
120 mg
Summary: The RDA for Vitamin C ranges from 15–75 mg for children, 75 mg for adult women, 90 mg for adult men, and 85–120 mg for women who are pregnant or breastfeeding.
In addition to the RDA recommendations for vitamin C, the Food and Drug Administration (FDA) has issued a recommended Daily Value (DV). The DV was developed for food and supplement labels. It helps you determine the percentage of nutrients in a single serving of food, compared with the daily requirements. On food labels, this is displayed as %DV.
Currently, the recommended DV for vitamin C for adults and children aged 4 and above is 60 mg regardless of gender. However, in January 2020, this will increase to 90 mg.
Where to buy Vitamin C?

You can go iHerb to buy Vitamin C Supplements, and don't forget to sign up at Extrabux (What is Extrabux?) , then you can get up to 5% super cashback from Extrabux! Sign-Up Bonus: Free to join it & get $20 welcome bonus!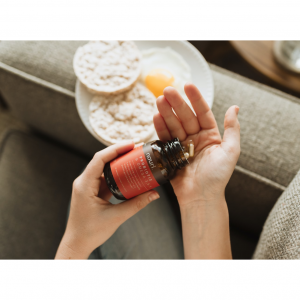 Liposomal Vitamin C vs. Ester-C vs. Regular Vitamin C
Below we will introduce these three types of vitamin C in detail. At the same time, we will also recommend the best-selling products in each category.
Liposomes are actually similar to cells. The same phospholipids that makeup cell membranes also make up the outer shell of liposomes. The inner and outer walls of the liposome are made up of phospholipids, the most common being phosphatidylcholine, to create a lipid bilayer. A double layer of phospholipids (phospholipid bilayer) creates a sphere around an aqueous (water-containing) component, such as dissolved vitamin C.
Because the liposomes' outer shells imitate our cell membranes, liposomes can "fuse" with certain cells upon contact, delivering the liposome's content to the cell.
What really makes the liposome so special is that can deliver its contents (nutrients) directly into the cells of your body without the consumption of energy. An added bonus, liposomes protect its contents from digestion or oxidation before the final delivery into your cells.
When a nutrient can be delivered into the cells of your body, not be degraded before delivery, and not consume energy in the process, the benefits of that nutrient can be optimized in a way that even intravenous delivery often does not match. Liposomal vitamin C is great for that reason.
Best Liposomal Vitamin C
1. SunLipid, Liposomal Vitamin C, Naturally Flavored
iHerb's innovative Sunlipid Liposomal Vitamin C - with Liposomal Bilayer Delivery System - works by encapsulating Vitamin C in a dual layer of non-GMO sunflower lecithin phosphatidylcholine complex & medium chain triglycerides.
Hydrophilic vitamins

Hydrophobic vitamins

Phospholipid
The liposomal encapsulation helps protect the Vitamin C as it passes through the digestive tract, thus allowing for improved absorption in the intestines and at the cellular level.
Healthy adults, take 1 packet daily, or as directed by a qualified healthcare professional. Tear at notched end and squeeze contents directly into mouth or add contents to a beverage of your choice.
1,000 mg Vitamin C

1,000 mg Sunflower Phospholipid Complex

500 mg Medium Chain Triglycerides (MCTs)

SUNLIPID BILAYER DELIVERY™

Naturally Flavored

Sugar Free

Dietary Supplement

Non GMO

100%Vegan

Gluten Free

Soy Free
Source:iherb.com
2. Dr. Mercola, Liposomal Vitamin C
Following Dr. Mercola's belief in providing the best quality products, this product is GMO Free, Gluten Free, and Soy Free. By utilizing phospholipids in their formula, they aid in the formation of protective liposomes in the stomach and help to reduce the potential of gastrointestinal distress typically associated with traditional oral vitamin C.
Delivered in high-quality, tightly sealed protective Licaps capsules, their Liposomal Vitamin C is available in 1,000 mg for adults, and Liposomal Vitamin C for Kids contains a tiny 125 mg capsule for children 4 years and older.
Source:iherb.com
3. California Gold Nutrition, Liposomal Vitamin C, Natural Orange Flavor
California Gold Nutrition Liposomal Vitamin C is a proprietary blend that expertly encapsulates a non-acidic buffered form of Vitamin C (Sodium Ascorbate) into Pharmaceutical Grade Phosphatidylcholine from Germany.
Their Liposomes go through a rigorous quality process to preserve the lipid compounds and ensure that the Vitamin C stays wrapped into the liposome bubble and doesn't separate. Vitamin C and Phosphatidylcholine help with antioxidant and immune system support.
This Phospholipid formula is sweetened with a Natural Orange Flavor and come in perfectly proportioned packets that makes it easy to bring wellness into your home kitchen. Try putting Liposomal Vitamin C into a small glass and adding pure water to create your own shot of liposomal Vitamin C.
California Gold Nutrition Liposomal Vitamin C

1000 mg of Buffered Vitamin C in Bioavailable Liposome Form

Pharmaceutical Grade Phosphatidylcholine from Germany

Natural Orange Flavor

30 Single Serving Packets

Antioxidant & Immune System Support

Suitable for Vegans & Vegetarians

Produced in a 3rd Party Audited cGMP Registered (Certified) Facility

100% Gold Guarantee
Source:iherb.com
Ester-C (Ascorbate and Vitamin C Metabolites)
Ester-C is a patented form of buffered vitamin C (mainly calcium ascorbate) that has been shown to be well absorbed and tolerated in the gut like other mineral ascorbates.
It contains a small amount of vitamin C metabolites such as calcium threonate, xylonate, and lyxonate, as well as dehydroascorbic acid. The manufacturer claims it helps improve absorption and results in higher vitamin C blood levels compared to regular ascorbic acid.
They claim that this form of vitamin C offers better immune support by staying inside your white blood cells longer (around 24 hours). This gives your immune system around the clock support. While pure ascorbic acid may cause stomach irritation or discomfort, Ester-C is both stomach-friendly and non-acidic. It's stomach friendly feature gives those who have trouble tolerating vitamin C a gentler option. So, if you have gastritis (painful inflammation of your stomach lining) or your stomach gets easily irritated when you take vitamin C, Ester-C may be the form of vitamin C for you.
Best Ester-C
1. American Health, Ester-C with Citrus Bioflavonoids
Ester-C is a breakthrough patented vitamin C formula supported with naturally occurring metabolites. Metabolites help enhance the absorption of vitamin C by your white blood cells, an important part of your immune system. Ester-C's unique, chemical-free manufacturing process neutralizes pH, making it non-acidic and gentle on the stomach. In a daily 1,000 mg dose, Ester-C delivers the advanced active immune system support and the potent antioxidant activity you can depend on. Added citrus bioflavonoids may help your body better absorb and utilize vitamin C.
Non-Acidic

Gentle and Non-Acidic

Unique Vitamin C Formula

Vegetarian

24 Hour Immune Support

Dietary Supplement
Source:iherb.com
Nature's Bounty Immune 24 Hour plus contains 1000mg of Ester-C, the only clinically studied Vitamin C with 24-hour immune support. Ester-C lasts up to 2x longer than regular Vitamin C. Immune 24 Hour plus provides Vitamin D, Vitamin A and Zinc for extra immune plus antioxidant support. Also contains Elderberry and Echinacea, plus 9 essential nutrients to help keep you healthy. Highly bioavailable Ester-C can increase Vitamin C levels in the body, which is important for white blood cell function, contributing to the health of the upper respiratory tract.
Nature's Bounty Immune 24 Hour plus is Non-GMO and contains No artificial flavor or artificial sweeteners, no sugar, no starch, no milk, no lactose, no soy, no gluten, no wheat, no yeast, no fish, sodium free.
Source:iherb.com
Regular vitamin C, ascorbic acid, is acidic. Ascorbic acid is the most commonly consumed and also the least expensive form of vitamin C available. However, its slight acidic component can make it hard on the digestive system for some, especially those with stomach acid issues. Many studies use this formulation of vitamin C. While ascorbic acid is synthetically made, it is identical to the formulations found in nature. Studies show only 30 percent of a given dose is actually absorbed. Ascorbic acid is available in tablets, capsules, or as a powder.
Best Vitamin C
1. Lake Avenue Nutrition, Vitamin C, Quali-C
Lake Avenue Nutrition Vitamin C, Quali-C
Helps to Support a Healthy Immune Response
Formulated Without: GMOs, Gluten or Soy
Produced in a GMP Facility
Take 1 capsule daily with or without food, or as recommended by a Healthcare Practitioner.
Source:iherb.com
2. California Gold Nutrition, Gold C, Vitamin C
California Gold Nutrition Gold C, 1000 mg

Featuring USP Grade Vitamin C

Suitable for Vegans & Vegetarians

Formulated to Contain: No Gluten, No GMOs, No Soy

Produced in a 3rd Party Audited cGMP Registered (Certified) Facility

100% Gold Guarantee
California Gold Nutrition Gold C Vitamin C is USP Grade L-Ascorbic Acid and is triple quality tested to ensure that it meets or exceeds strict quality standards. Take 1 capsule daily, with or without food. Best when taken as directed by a qualified healthcare professional.
Source:iherb.com
Antioxidant Protection

Sustained Release

With Rose Hips

Non-GMO

A Dietary Supplement

Vegetarian/Vegan

Kosher

Vitamins

Family Owned Since 1968

GMP Quality Assured

Take 1 tablet daily
Source:iherb.com
Verdict: Which Should You Choose?
Regular vitamin C, ascorbic acid, is acidic. This is not the reason why high-dose vitamin C sometimes causes diarrhea, but the acidity can cause stomach irritation in some people. If you want a less-acidic vitamin C, you can choose Ester-C (calcium ascorbate) or sodium ascorbate. With each, vitamin C is attached to (and is "buffered" by) calcium or sodium. If you are watching your sodium intake, Ester-C would be preferable.
In the case of liposomal vitamin C, these phospholipids encapsulate vitamin C at their core. Liposomes are thought to fuse with the cells responsible for absorbing nutrients making up the gut lining called enterocytes. Because they bypass the normal mechanism of absorbing vitamin C through slow vitamin C receptors type 1 (sodium-dependent vitamin C receptors SCVT 1), the bioavailability is much higher than standard vitamin C supplements. Taking a liposomal form of vitamin C is much more effective and efficient than traditional methods of vitamin C supplementation in terms of absorption.

Extrabux is an international cashback shopping site, offering up to 30% cashback from 10,000+ Stores!
iHerb, Walgreens, Gousto, Orgain, Puritan's Pride, Pharmaca, Texas Superfood, Lloyds Pharmacy, Rite Aid, Dr. Schulze's, Vitacost, Myprotein AU, Vitabiotics, etc.
Join to get $20 welcome bonus now! (How does Welcome Bonus work?)