The Complete Philips Sonicare Toothbrush Buying Guide 2020
3.5% Cash Back
4% Super Cash Back
So, you're looking for an electric toothbrush. With so many options, it can be tough to know which is the best electric toothbrush to meet your needs. Philips can be the one of your best choice. Philips Sonicare is one of the best known brands in the oral hygiene marketplace, having been around for ages and delivered consistently high value through a range of dental care and cleaning products including some amazingly popular electric toothbrushes. So which is the best Philips electric toothbrush?Which is the best sonicare toothbrush to buy? What are the different sonicare models? Let me impart some wisdom to help you find the best Philips sonicare toothbrush for you.

Cover Photo:unsplash.com
Philips Sonicare Toothbrush Models for 2020/2021
There are more than 10 Philips Sonicare electric toothbrush models available for you to buy. The models reviewed here were all listed on the Philips Sonicare website
as currently available products starting with the simpler, less techy, models, up to feature-packed, Bluetooth-capable DiamondClean Smart Series.
Source:philips.com
PowerUp
The PowerUp electric toothbrushes are powered by AA batteries, which eliminates any charging requirements – great for frequent or international travel – and still retains the power and features you need. They aren't quite as fast as the other Sonicare toothbrushes but deliver 15,000 brush strokes per 60 seconds (oscillating back and forth) which far outperforms a traditional toothbrush.
Essence / Essence Plus(+)
The Philips Sonicare Essence and Essence Plus toothbrushes are the entry-level rechargeable brushes with basic features at an affordable price.
The Sonicare Essence brushes are the most basic rechargeable toothbrushes made by Philips. You get a 2-year warranty, Smartimer (2-minute timer), 31,000 strokes per minute, and a NiMH battery. They are only compatible with the e-Series brush heads.

The Sonicare Essence Plus models come with the Smartimer, Quadpacer, 2-year warranty, and 110-220V compatibility. The max speed is 31,000 strokes per minute. Being able to use the various Sonicare brushes is a huge plus for the Essence+ toothbrushes. If you find you don't like the e-Series brushes available for the Essence, then you don't have any options. With the Essence+, you can buy replacement brush heads and not have to worry about them being useless later on if you want to upgrade your toothbrush to another Sonicare model.
FlexCare Platinum / FlexCare Plus / FlexCare Platinum Connected
The FlexCare Series is the largest group of Sonicare electric toothbrushes available. The most notable change from the FlexCare is the 2 additional brushing modes, so that's 5 total now: "Clean", "White", "Sensitive", "Gum Protection", "Deep Clean".
FlexCare Platinum is able to give users a clean feeling in their mouth as it removes up to 83% of plaque including those in hard to reach areas. It will also make your teeth whiter with continuous use because of its dynamic cleaning action that can get rid of teeth stains that are caused by coffee or tea.The Sonicare FlexCare Platinum is safe to use on all kinds of dental restorations (veneers, crowns, and others) and braces.

The FlexCare Plus from Philips Sonicare is an entry-level product for high-end electric toothbrush models-from features to accessories, all features have emerged. FlexCare promises a lot, and most of them can be delivered.

FlexCare Platinum Connected lets you set daily goals and track your progress. The Sonicare app maintains a running history of your brushing data, so you can easily review your performance. With personalized coaching, tips and alerts from the app, your brushing technique will improve over time.
ExpertClean
The Sonicare ExpertClean is an excellent electric toothbrush. There are many desirable features. The brush head replacement reminder system and the in-case charging are just 2 of many that this brush others.The ExpertClean has Bluetooth connectivity, multiple brushing modes, and can sync with the brush heads using BrushSync technology.
HealthyWhite / HealthyWhite Plus
Sonicare HealthyWhite, a highly rated electric toothbrush that consistently gets rave reviews from users, is a mid-range offering in the Philips Sonicare line. Its popularity comes from the combination of an economical price and advanced features.
The Sonicare Healthy White electric toothbrush is a popular pick that combines affordability with high-end features. At the heart of this toothbrush is the Sonicare power-brushing capability which is made possible by the 31,000 brushstrokes per minute standard that Philips Sonicare has imposed on much of its product line.
The company guarantees that the Sonicare Healthy White will take away stains on your teeth within 15 days of regular brushing. No longer do you have to worry about stains caused by coffee, tea, tobacco or wine. Your teeth will be whiter and your smile brighter!
ProtectiveClean
The Sonicare ProtectiveClean is one of the recently launched model lines. The ProtectiveClean Series brings together the features we liked from the HealthWhite Plus and 3-Series into newer, updated models. Multiple intensities and brushing modes with the BrushSync capability that lets you know when to change your brush head. If you're unsure what to purchase,the ProtectiveClean electric toothbrushes are your best choice.
DiamondClean / DiamondClean Smart
Philips Sonicare DiamondClean is currently top of the line toothbrush model.
You can choose between DiamondClean Classic and several Smart DiamondClean models – 9300, 9500, 9700, and 9750. What sets DiamondClean apart is the unique charging glass you will not find in any other Sonicare model.
Philips DiamondClean features the most advanced teeth and gum cleaning technologies available at the moment. Scientists have proven that this brush will help you to get rid of more than 99% of plaque from hard to reach places of your mouth. Mostly it is due to the new angled design of DiamondClean toothbrush head that allows better get to the back teeth which usually suffer from inadequate cleaning.

DiamondClean Smart, a new iteration of its top-of-the-line toothbrush with all the bells and whistles. Not only does it connect to your iPhone using a Bluetooth connection to help you brush better than ever before, but it's also been redesigned to decouple brushing mode from intensity. There are new smart brushes for more tailored brushing, additional modes to meet different needs, and other small refinements that bring overall improvements.
Sonicare 2 series

The Philips Sonicare 2 Series Plaque Control toothbrush is an entry-level dental care tool with one brushing mode and no extra accessories. It has a 2-minute timer but no Quadpacer, so the user has to try to split the brushing time between the upper and lower teeth.This model is being phased out.
Sonicare 3 series
The Philips Sonicare 3 Series Gum Health electric toothbrush is a slightly more advanced variation of 2 Series model. The 3 Series brush features newer Li-Ion batteries that can be charged faster and provide longer 3-week battery life. Now The Sonicare 3-Series is still popular and remains a solid choice with the lithium-ion battery and 3 intensity levels.
Sonicare for kids
This is the Philips toothbrush model designed for kids aged from 4 to 10. You can connect with their electric toothbrush on your phone and see how often they've been brushing. This is probably the single best use for the phone app on the kid's model. To add, it has brushes and functions that are ideal for the sensitive teeth of your child and their special needs.
Where's The Best Place to Buy Philips Sonicare Toothbrush?
If you want to buy one Philips toothbrush, don't forget to Sign up at Extrabux (What is Extrabux?) , then you can enjoy up to 3.5% cashback from Extrabux! Sign-Up Bonus: Free to join it & get

$20 welcome bonus

!
5 Best Philips Sonicare Toothbrush
Philips Sonicare ProtectiveClean 4100
Price: $39.95 + 3.5% cash back at Philips
This Philips Sonicare ProtectiveClean 4100 is a nifty, affordable little electric toothbrush that's 7 times more effective at getting rid of dental plaque than a manual toothbrush – and comes with some handy features often seen only with premium models.
Cleans by 'sonic' action, the brush head vibrating 31,000 times per minute.

Offers only one cleaning mode, which runs at 2 levels of intensity.

Built in pressure sensor included.

Comes with a 2-minute timer and QuadPacer functionality.

Turns off automatically at the end of a cycle.

Has a brush head reminder system.
Philips Sonicare ProtectiveClean 5100
Price: $69.95 + 3.5% cash back at Philips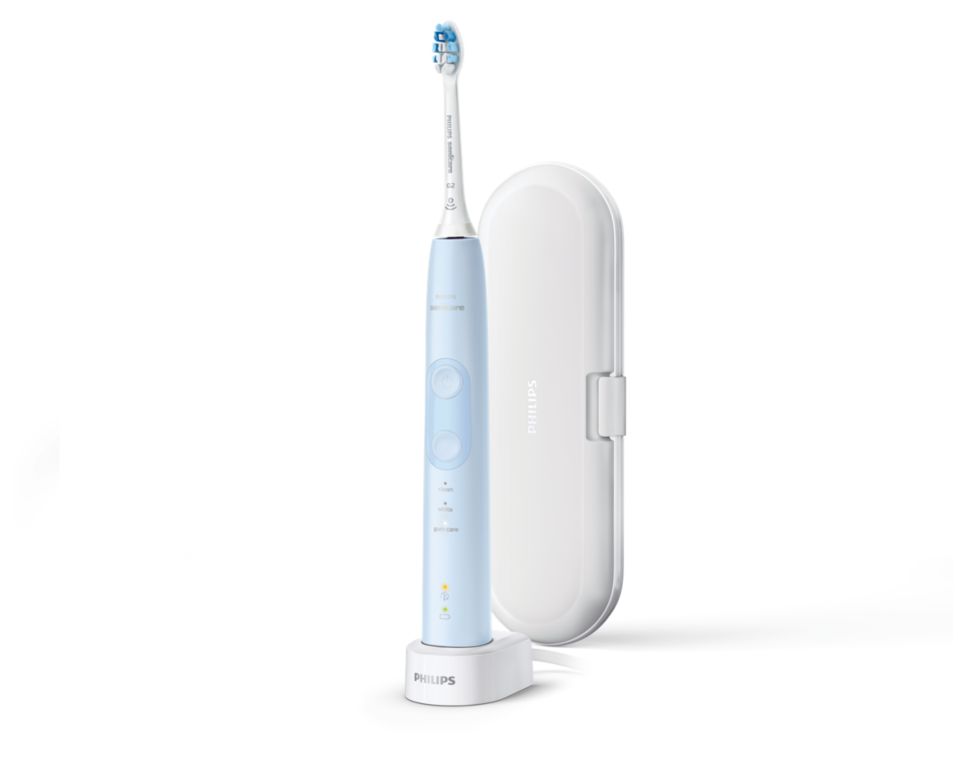 In addition to a slew of features that makes the Philips Sonicare brand a household name, the ProtectiveClean 5100 boasts of BrushSync technology that reminds you when the brush head needs replacing. So you're assured of optimal results every time you brush.
ProtectiveClean 5100 offers 3 cleaning modes, has a pressure sensor to warn when you are applying too much force while brushing, and a long battery life. The pressure sensor prevents damage to teeth and a long battery life means you can charge your brush handle just once in several days… or even weeks.
Philips Sonicare DiamondClean Smart 9300
Price: $189.95 + 3.5% cash back at Philips
This is an excellent electric toothbrush, which justified its premium price thanks to the quality of its cleaning and the elegance of its design. This particular model sometimes comes with a wireless charger in the shape of a drinking glass, for your bathroom. The DiamondClean also has a better battery life than any other brush I've tried and seems to continue to hold charge well after years of use.
It has different settings like Clean mode and Deep Clean+ mode, plus brush heads that address specific concerns like plaque control or gum care. It also works with the Sonicare app to guide you during brushing and alert to any missed spots.
Philips Sonicare DiamondClean Smart 9700

Price: $279.95 + 3.5% cash back at Philips
Get the ultimate clean with DiamondClean Smart. Eliminate guesswork with real time feedback and personalized coaching for superior teeth, gum, whitening & fresh breath. It's a complete oral care solution. Philips Sonicare DiamondClean Smart uses unique sonic technology to clean teeth with up to 31,000 brush strokes per minute. Sweeping motions drive fluid deep into the tight spaces between your teeth and along your gum line, resulting in a cleaner, healthier mouth.
Sensors and app help you perfect your technique, and get a complete clean.

Premium brush heads give you exceptional oral health results.

5 modes and 3 intensities let you focus on each aspect of your oral health.

Sonicare's Premium brush heads automatically select optimal mode and intensity.

NEW! Brush head reordering service automatically orders brush heads for you.
Sonicare For Kids Sonic electric toothbrush
Price: $39.95 + 3.5% cash back at Philips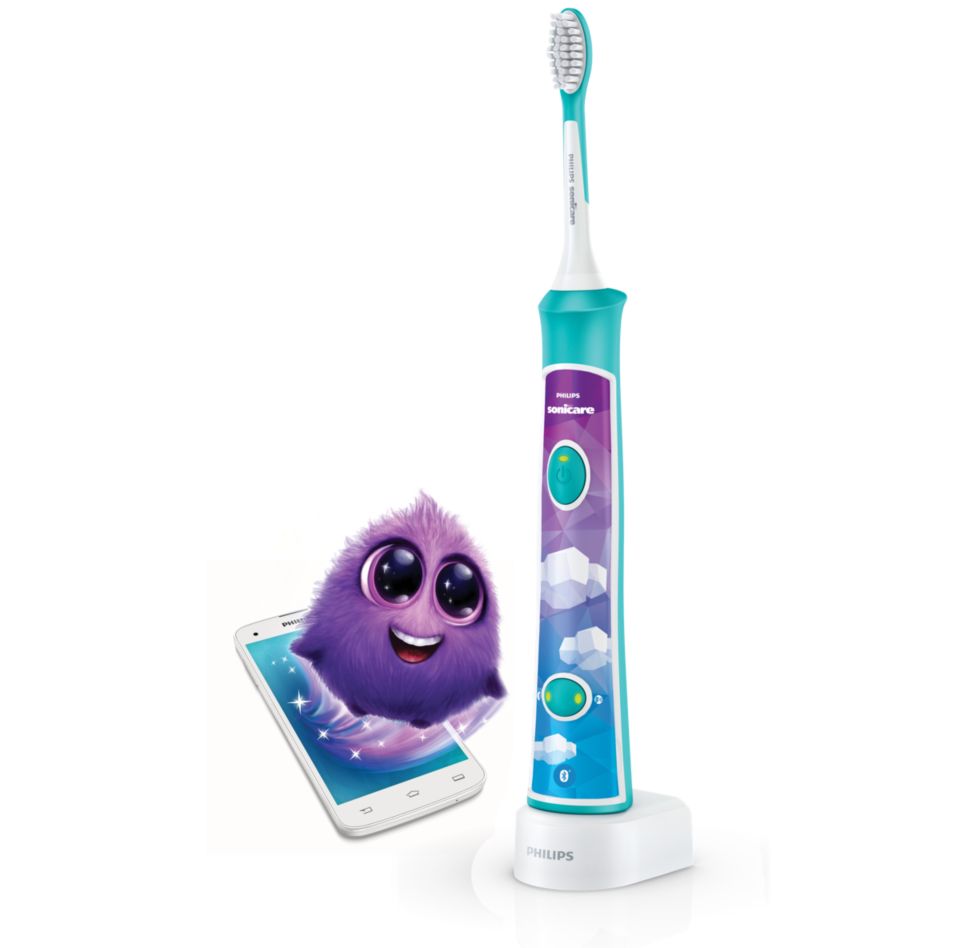 Kids don't need all the different brushing modes and travel features that adults do, says Dr. Reynolds. He recommends this Philips Sonicare for Kids to children 7 or 8 years old and up, especially those with braces. It works with an interactive app that turns brushing into a game. Kids won't even notice that it's also teaching good habits and proper techniques.
Interactive app makes brushing fun with coaching and rewards while you monitor progress.

Rubberized head and low power mode protect growing young teeth.

Musical timer gradually increases brushing time to reach 2 full minutes.
Philips Sonicare Toothbrush Modes
Some Philips Sonicare Toothbrush models come with different brushing modes. You can find here an overview of what these modes mean. Please note that these modes may vary per toothbrush model.
Clean Mode: this mode has a higher frequency of vibrations in comparison to a standard mode for better cleaning. Brushing time is 2 minutes.

Deep Clean mode: you can choose this mode for extra cleaning. It is more powerful than any other mode. Brushing time is 3 minutes.

White mode: in this mode the total brushing time is two and a half minutes. The first 2 minutes are clean mode and the last half minute is polishing mode.

Polish mode: this mode lasts one minute. The toothbrush runs at a lower frequency of vibrations than in the standard cleaning mode.

Gum Care mode : this mode has a 1-minute massage cycle after the standard 2-minute clean mode to clean your gums. Brushing time is 3 minutes.

Gum Health mode : this mode has an extended massage cycle after the standard 2-minute clean mode to clean your gums. Brushing time is 3:20 minutes.

Sensitive mode: this mode has a lower frequency of vibrations in comparison to the standard mode. Brushing time is 2 minutes.

Tongue Care mode: this is a 20-second mode designed to clean your tongue, together with the Tongue Care brush head. Brushing time is 20 seconds.

Extrabux is an international cashback shopping site, offering up to 30% cashback from 10,000+ Stores!
B&H Photo Video, Dyson, Woodland Direct, Ooni UK, Bed Bath and Beyond, TUSHY, Zoro, Anthropologie, 4seating.com, GDF Studio, simplehuman, Appliance Parts Pros, etc.
Join to get $20 welcome bonus now! (How does Welcome Bonus work?)