18 Best Things to Buy at Costco 2022 for Single Person (And 6 to Avoid)
Costco is the largest chain membership-based warehouse shopping mall in North America, committed to providing members with high-quality products at the lowest price. Costco's products cover a very wide range, including all kinds of daily necessities, health products, fresh and fast food, snacks and desserts, drinks and alcohol, electrical appliances and furniture, and even prescriptions etc. But not everything at this warehouse store is a good deal, some items sell for way cheaper at the local supermarket than here. So What are the best things to buy at Costco? What should you not buy at Costco? Here are 18 products that are definitely worth to buy at Costco and 6 others that need to avoid to buy.

If you want to shop at Costco Warehouse, you need to become a member of Costco first. Don't forget to Sign up at Extrabux!(What is Extrabux), then you can enjoy up to $3 super cashback from Extrabux when you buy a Costco membership online! Sign-Up Bonus: Free to join it & get a $20 welcome bonus!
Best Things to Buy at Costco
Source:costco.com
When you head to Costco, Kirkland bacon should definitely make your list of things to buy. It crisped up nicely and consistently had balanced fat and meat flavors complemented by wood smoke and a hint of sweetness which was the hands-down winner in a taste test that included big brand names like Hormel and Oscar Mayer. what's more, it averages about $1.50 less per pound than other name brand competitors.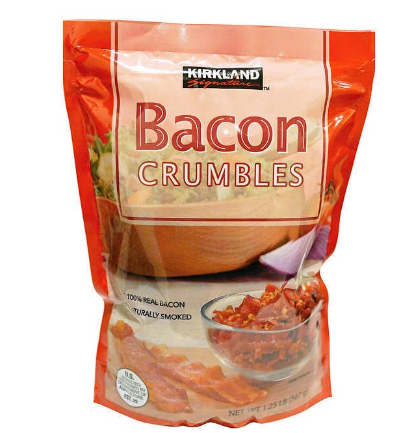 Source:costco.com
Kirkland Signature Bacon Crumbles are created using the same great recipe as Kirkland Signature Bacon you enjoy from our refrigerated section. 100% real bacon. That is what makes them one of the most renowned buys.
Source:costco.com
Experts and even celebrity chefs love Costco for their mega bargain on olive oil. Costco offers a variety of name brands and Kirkland varieties for olive oil at different quality and price points. Kirkland Signature Organic Extra Virgin Olive Oil costs less than 15 percent as much as other brands and is one of the rare olive oils to meet the standards for extra-virgin.
Source:costco.com
Costco's almond butter is tasty, creamy, and comes in a tub much larger than what you'll find at other grocery stores for about the same price. A deal, and a great addition to your healthy snack cabinet.
Source:costco.com
Costco's peanut butter pretzel bites are a great go-to snack, only for $10.I do not think you'd have the ability to locate a better snack that will last you approximately three months. The peanut butter is creamy and luxurious, and the pretzels are salty and crispy the ideal mix.
Source:costco.com
Whether it's grated, blocks or in a flight, Costco's cheese selection will make for the most amazing platters you've ever had, and for super affordable prices. My personal favorite is sliced cheddar.
Rotisserie Chicken
Costco's rotisserie chickens are famously large, cheap, and delicious. They have no MSG and also gluten-free, making them a great option for anyone with gluten sensitivities or celiac disease.
Shrimp Cocktail
Costco's deli section sells a lot more than just the rotisserie chickens! If you're looking for a quick appetizer for your next family meal, you can't go wrong with the shrimp cocktail from Costco.
Food Court Treats and Snacks
Costco's food court with items ranging from churros to pizza to acai bowls. But their most famous and popular offerings is a hot dog and soda combo, only for $1.50.
Source:costco.com
This might be the best deal to be had at Costco… you can't make 4 cheese pizzas for less than $10. But you can buy them frozen at Costco for that! For a little more, you can get meat or supreme varieties, and for those with dietary restrictions, there are also cauliflower crust, gluten free options too.
Source:costco.com
Chips, pretzels, and cheese curls can run up a big bill, especially if you buy small, single-serve packs or bags. Buying them in bulk at Costco will save you some serious dough.
Source:costco.com
Almonds, peanuts, pecans — take your pick. Costco has an assortment of nuts of all varieties that come in big containers so you'll be set for weeks. They're a great healthy snack to have on hand, and you'll look very fancy setting some out in a cute glass bowl when you have company over.
Source:costco.com
If you like the occasional adult beverage then you should check out Costco's selection of spirits. The warehouse club offers a selection of house brands that offer high quality for low prices. You might have to experiment a bit to find what you like, but once you do the values are tremendous.
Source:costco.com
You'll find gift cards at plenty of stores, but rarely at a discount. Costco has such bargain cards, discounted by at least 25-35%. Maybe you won't find the selection you might see elsewhere, but the prices are great.
Glasses
You can buy inexpensive prescription eyeglasses at Costco. The prices are generally quite low and the quality is decent. That makes this a smart place to shop if you wear glasses.
Prescriptions
Costco locations have pharmacies. These are generally cheaper than your other options for filling your prescriptions and sometimes they have good prices even if you don't have insurance.
Movie tickets
Two for $17. The regular price of movie tickets is $13 each (x 2 = $26). If you go to one movie a month for a year, you're saving around $99 a year!
Gas
Costco gas is on average $0.10-0.30 cheaper than other local gas stations.
Products Avoid to Buy at Costco
Fruits and Veggies
There are so many reasons why buying your fresh fruit and vegetables from Costco isn't the best idea. The quantities are often too large for a single person, which means the product will probably spoil before you have a chance to consume it all. The package of 12 honeycrisp apples (about 5.5 pounds) is about $18.29 at Costco, while at my local international grocery store, they sell for $0.89 per pound, ringing in around $4.90 for the same quantity. That is a drastic price difference.
Soda
You might think you're getting a good deal on soda at Costco—and you might be right. But it's not necessarily going to be any better a deal than you could get at the national chain. Sodas are usually significantly discounted already at the local grocery store, so huge bulk purchases in Costco won't save you much.
Bottled water
Bottled water is generally not cheaper at Costco and you will have less selection to pick from. In most cases, you're better off just buying from your local grocery store -- especially if you want to buy in a relatively small quantity.
Milk
You can't buy milk at Costco because of the quantities it comes in. There's nothing wrong with the milk Costco sells, but you have to buy 2 gallons at a time. Unless you have lots of kids to feed, it's probably impossible to drink that much milk before it goes bad.
Canned Goods
You might find that canned goods are not only cheaper at your local grocery store, but also more along the lines of the quantity your household actually needs. Most people don't need 20 cans of beans. Opt to buy canned goods at your local grocery store, which can be anywhere from 20 to 30 percent less and are often on sale.
Stationery and Office Supplies
You'd think with the large quantities that Costco sells, that you'd get the best deal on print paper, folders, pens, etc. But, the truth is, you're better off shopping at Walmart for these items. Costco currently sells a case consisting of 10 reams of copy paper for about $32. During back-to-school sales, Walmart sells one ream of copy paper for about $2, which means you can get 10 reams of paper for about $20. That's a $12 price difference!

Extrabux is an international cashback shopping site, offering up to 30% cashback from 10,000+ Stores!
Squarespace, SkinStore, MATCHESFASHION, The Wall Street Journal, NordVPN, Visible, Armani Exchange, Sam's Club, PUMA, AliExpress, Card Cash, NET-A-PORTER, Udacity, Udemy, Selfridges, LOOKFANTASTIC, Vimeo, Coach Outlet, lululemon, PrettyLittleThing, Booking.com, Ripley's Aquarium, iHerb, Groupon, etc.
Join to get $20 welcome bonus now! (How does Welcome Bonus work?)