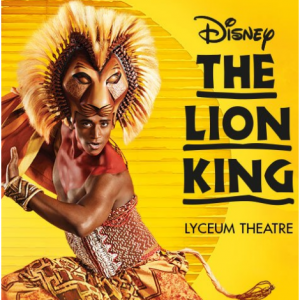 ExpThe Lion King Events From $31 @Expedia
From $31
Book The Lion King Events From $31 @Expedia.
More events:


Get swept away to the African savannah on a journey that's part Bambi and part Hamlet—complete with noble lions, evil hyenas, and a fight for rule over the animal kingdom. Adapted from the 1994 Disney movie of the same name, The Lion King takes you on a breathtaking safari with unbelievable costumes and intricate makeup that bring the natural drama of Kenya to life. Tickets have been going fast ever since its Broadway debut, so don't miss your chance to experience this jubilant show for yourself.

The story of The Lion King begins with the birth of a prince named Simba, a cub who is later set to inherit the throne. It's a joyous occasion across the land for everyone—except Simba's uncle Scar. Desperate to be king himself, Scar plots an elaborate scheme to usurp the throne, leading Simba to cast himself out of his pride in shame. Over the next few years, Simba grows to adulthood in the jungle, embarking on a journey of self-discovery that ultimately brings him home ready to fulfill his destiny.

Previous
Top in 3hrs
Top in 24hrs
Ending Soon