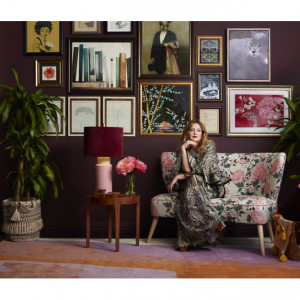 ExpDrew Barrymore Flower Home @ Hayneedle
From $12
Hayneedle has Drew Barrymore Flower Home from $12.

Free shipping on $49+.
Drew Barrymore is no stranger to launching brands—her cosmetics brand, Flower Beauty, has been around for years now, as well as her line of wine. But now the iconic actress is making her first foray into the home space, with a new home collection at Hayneedle called Drew Barrymore Flower Home. And now that it's here in all its beauty-on-a-budget glory, I can't help but wish it had arrived sooner. (As someone who spends her entire day writing about home decor and rewatches Ever After no less than three times a year, maybe I'm a little biased.)
Basically, you're about to be obsessed. Consider yourself—and your wallet—warned!
The collection features more than 200 items ranging from small decor pieces (think vases, baskets, lighting, framed art prints, and a floral globe that you didn't know you needed but now absolutely must have) to furniture like beds, chairs, tables, and a blush velvet sofa. It's an eclectic mix of mid-century, boho, and glam pieces with a little bit of Palm Beach personality mixed in, and somehow, they all come together seamlessly. It's also packed with color, prints, and patterns sure to liven up any space.
Images & introductions are from Internet, copyright belongs to original authors.
Previous
Top in 3hrs
Top in 24hrs
Ending Soon