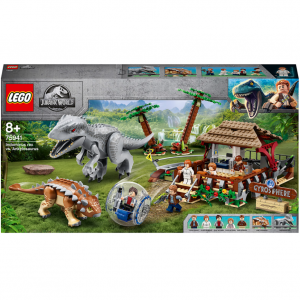 ExpLEGO Jurassic World Combo @ Zavvi
Up To 6% Cash Back
Up To 8% Super Cash Back
$134.99(was $154.98) + Free Shipping
Get LEGO Jurassic World :Indominus Rex vs Ankylosaurus (75941) and Gallimimus and Pteranodon Breakout (75940) sets for $134.99 + Free Shipping with code ZAVJPCopied

LEGO Jurassic World: Indominus Rex vs. Ankylosaurus (75941)
Young builders can reimagine classic moments from the Jurassic World movie with this LEGO Indominus Rex vs. Ankylosaurus (75941) dinosaur playset. Kids will love playing out dinosaur battles with the Indominus Rex and Ankylosaurus dino toy figures, and discovering tricks like the trees in the buildable jungle scene that can be knocked over with the Ankylosaurus' swiping tail, or the gyrosphere with room for 1 minifigure that can be launched to pursue escaping dinosaurs!
This dinosaur Indominus Rex vs. Ankylosaurus set is a great gift idea for kids aged 8 and up, and comes with step-by-step instructions so even LEGO rookies can build confidently.
LEGO Jurassic World sets feature dinosaur figures, well-known characters, cool vehicles and more, for fans to recreate scenes from the animated series and movies, create their own unique adventures or proudly build and display the collectible models.
The gyrosphere station measures over 4" (12cm) high, 10" (27cm) wide and 10" (27cm) deep. Contains 537 pieces.
Features:
Features a research station building with an entrance turnstile, ticket booth, and gyrosphere, plus 2 dinosaur figures and outdoor setting

The gyrosphere deployment station has a trigger to launch a gyrosphere with a minifigure inside, surrounded by jungle with smash-down trees

LEGO dinosaur figures come with posable legs, the Indominus Rex has a movable jaw, and Ankylosaurus has a swiping tail to knock trees down

Children can role-play thrilling action with 5 LEGO minifigures, including Owen Grady, Claire Dearing and brothers Gray and Zach Mitchell

Check out other new LEGO Jurassic World sets: Dr. Wu's Lab: Baby Dinosaurs Breakout 75939, or Gallimimus and Pteranodon Breakout 75940

Age: 8+

Number of Pieces: 537
LEGO Jurassic World: Gallimimus and Pteranodon Breakout
Kids can build their own LEGO Jurassic World of dinosaur-chasing action with this Gallimimus and Pteranodon Breakout (75940) toy playset. It features a toy research vehicle with cool elements to chase and capture the escaped dinosaurs and then to do some research, inspiring hours of creative solo or social play.
This building set for kids also includes 3 LEGO Jurassic World minifigures and awesome Gallimimus and Pteranodon toy dinosaur figures to role-play exciting adventures. Clear, illustrated instructions mean that even if your youngster is new to LEGO toys, they can build with confidence right away.
Featuring moulded, buildable dinosaur figures, minifigures, detailed vehicles and more, LEGO Jurassic World construction toys make awesome birthday presents for kids and fans of all ages. They can relive scenes from the animated series and movies, create new stories or proudly display the collectible models.
The buildable toy vehicle measures over 3" (10cm) high, 6" (16cm) long and 5" (14cm) wide. Contains 391 pieces.
Features:
Features a toy research vehicle with a dual minifigure cockpit, net shooter, 2 detachable drones, a removable mini lab plus accessories

The off-roader has an opening cockpit for 2 minifigures to drive, the mini lab is easily detachable to open and play with the items inside

Includes 3 LEGO minifigures: Owen Grady, Claire Dearing and an ACU Trooper, plus posable Gallimimus and Pteranodon dinosaur toy figures

Accessory elements include a drone remote, tranquilising gun with a needle and 2 dinosaur eggs. It's time for research in the vehicle's lab!

Check out other new LEGO Jurassic World sets: Dr. Wu's Lab: Baby Dinosaurs Breakout 75939 or Indominus Rex vs. Ankylosaurus 75941

Age: 7+

Number of Pieces: 391
Previous
Top in 3hrs
Top in 24hrs
Ending Soon