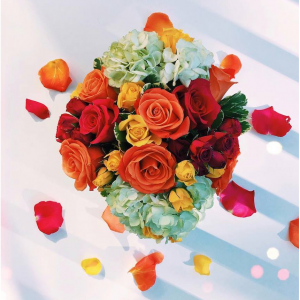 ExpValentine's Day Gift Guide for You: 20% off Flowers Sitewide @ Teleflora
8% Cash Back
10% Super Cash Back
Next Day & Same Day Delivery Available on all Bouquets
These dazzling flowers are hand-arranged and hand-delivered right to your loved one's home or office – never shipped through the mail. This way, you know your order will arrive on time, ready to be displayed and enjoyed. You can send flowers with confidence, knowing that your choice is one of our favorite Teleflora bouquets. We have you covered all year long for unique and beautiful out-of-the-box gifts.
The tradition of sending red roses as a symbol of love dates back to the Romans, as it was believed to be the favorite flower of Venus, the Goddess of Love. When choosing the color of your roses to send on Valentine's Day, you may want to consider the symbolic meaning. Learn rose color meanings here:
Red roses proclaim "I love you" and stand for love, passion, and respect

Lilac roses indicate the sender has fallen in love at first sight and is enchanted
White roses symbolize truth and innocence and say "I miss you"
Orange and coral colored roses express desire on the part of the sender
Yellow roses indicate friendship
Previous