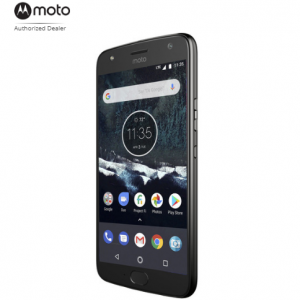 Exp$180 off Moto X4 XT1900-1 32GB Smartphone (Unlocked, Android One, Super Black) @ B&H Photo Video
$164.99(value $349.99)
B&H Photo Video offers Moto X4 XT1900-1 32GB Smartphone (Unlocked, Android One, Super Black) for $164.99.

Experience the next generation of dynamic handheld performance with the unlocked fourth-generation Moto X4 XT1900-1 32GB Smartphone in Super Black. The IP68 water- and dust-resistant glass and metal Moto X4 is powered by a 2.2 GHz octa-core Qualcomm Snapdragon 630 processor and 3GB of RAM. It comes equipped with 32GB of storage and includes a microSD slot for expansion. The phone features a reversible USB Type-C interface for charging and data transfer and a front-mounted fingerprint reader.

FREE shipping on your order.
The Moto X4 is equipped with a 5.2" IPS LCD display with 1920 x 1080 Full HD resolution. For your photo and video needs, the Moto X4 features two rear-facing cameras, one 12MP f/2.0 for standard shots and one 8MP f/2.2 with an ultra-wide 120° lens. In low-light conditions, color-correlated temperature dual-LED flash and auto HDR improve camera performance. A front-facing 16MP wide-angle camera with an f/2.0 aperture and its own LED flash helps you take selfies in all conditions. For even better low-light performance, the front camera reduces its resolution to 4MP, enabling pixels to combine for improved light capture.
The Moto X4 is well-equipped for wireless communication. It features Bluetooth 5.0 technology for pairing with other Bluetooth-enabled devices, and 802.11a/b/g/n/ac Wi-Fi for high-speed Internet connectivity. GPS with GLONASS is also on-board for using compatible location services and applications. The X4's 3000mAh battery is designed to provide "All Day" mixed usage on a full charge, and thanks to TurboPower technology, it can provide up to six hours of power from only 15 minutes of charging using the included charger.
Note: The XT1900-1 is the North American variant of the Moto X4. It will run on any GSM network that uses cell frequencies supported by the device, including AT&T, T-Mobile, and Project Fi. It will also work with certain CDMA carriers, such as Verizon and Sprint. Current Verizon SIM cards can be transferred to the new device, though the carrier may limit the purchase of new SIM cards for unlocked phones. Since this device is unlocked, functionality for certain carrier-specific features cannot be guaranteed. Please confirm with your carrier that it supports the XT1900-1 4th-generation Moto X4 before purchasing.
Previous