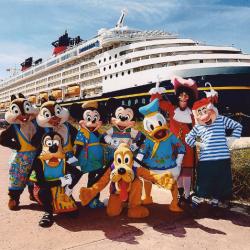 From $648 Disney Cruise Line @ CruiseDirect
2% Cash Back
3% Super Cash Back
CruiseDirect offers Disney Cruise Line from $648 to $5115.

They´re giving you the lowest rate possible – and they guarantee it! You will never have to worry about paying a booking fee! You only need to pay a deposit when you book your trip in advance!





Disney Cruise Line excels in every way, and families flock to the fleet to enjoy both little and big touches. For instance, Disney staterooms have tubs, which makes it easy to bathe away the last traces of a day of fun. Then there are more obvious attractions, such as the new Marvel Day at Sea on select cruises. The kids can pretend that they're part of a superhero team as they take photos with Thor and Spider Man. Disney Cruise Line offers lots of themes, some seasonal, like the Very Merrytime Cruises or Halloween on the High Seas. Kids can dance with Mickey and friends at the Oceaneer Club, wonder at evening fireworks, enjoy award-winning live musicals, and much more. If you're not traveling with little ones, your own inner child will be delighted. Every stateroom category provides infinite comfort and superior amenities. Plus, you can dine in adult-only restaurants or relax in the spa if you want to enjoy a few hours without the pitter patter of little feet.
Previous