9 Best Peptide Moisturizers to Plump, Tighten and Hydrate Skin 2022
Peptides have long been used in skincare formulas, and are one of the most buzzed-about ingredients when it comes to your anti-aging skincare routine. Extensive scientific research has proven that peptides can support your skin on multiple levels, for example firming, soothing and hydrating the skin. The best peptide products are ones that stay on your skin and don't rinse off. Skip the cleansers and opt for peptide-rich serums and moisturizers to wake up with firmer skin over time. Keep scrolling for the best peptide moisturizers recommended by dermatologists to plump, tighten and hydrate skin.

Peptides are the building blocks of collagen and elastin fibers that are found in our skin. They're short chains of amino acids, and can tell the body to produce even more collagen.
What are the benefits of peptides for your skin?
When applied topically, peptides act as messaging agents to the skin, prompting it to get into rejuvenation mode. Thanks to this, peptides can help reduce the appearance of fine lines and wrinkles—but that's not all.
Since peptides are comprised of up to 50 amino acids, they're also incredibly mutable. While peptides can reduce fine lines and wrinkles, they also can help make skin feel more taut. Peptides also have anti-inflammatory properties that could soothe irritation or redness.
Most peptide-containing products or collagen-boosting creams aim to either increase the amount of collagen your cells produce or decrease the amount of it that gets broken down, with the ultimate goal being smoother, plumper, healthier skin.
The Best Peptide Moisturizers/Collagen Creams
| Drunk Elephant Protini Polypeptide Moisturizer
($68/50ml, up to 5% cashback at Sephora)
Source:drunkelephant.com
This silky water-gel moisturiser is the perfect defence against the signs of aging – think of Protini as a powerful shot of protein powder for your skin, which helps to maintain collagen, encouraging its production and preventing its breakdown.
Formulated with a complex of 9 signal peptides, pygmy waterlily stem cell extract, soybean folic acid ferment extract and acetyl glutamine, Drunk Elephant has, with this moisturiser, designed a powerhouse product that revives depleted and tired skin to its former glory. Watch as your complexion quickly becomes firmer, stronger and more hydrated.
Money Saving Tip: If you like online shopping, don't forget to sign up at Extrabux!(What is Extrabux) , then you can enjoy up to 15% cashback on your purchase from Extrabux! Sign-Up Bonus: Free to join it & get $20 welcome bonus! Student Benefits:As long as you are a student at school, you can get a free whole year long VIP Card worth $199.
| Skinfix Barrier+ Triple Lipid-Peptide Cream
($52/50ml, up to 5% cashback at Sephora)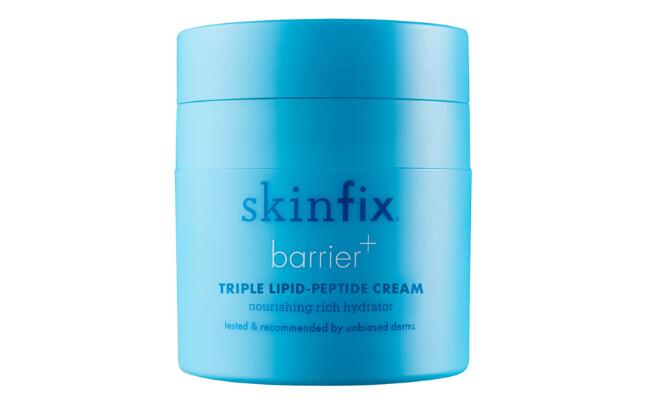 Source:sephora.com
This 95% naturally-derived formula contains a peptide-protein blend (to support your barrier and protect against free radicals), lily root extract (to tighten, reduce water loss, and hydrate), as well as Skinfix's propriety skin lipid complex, which is present in all the brand's offerings and infuses the formula with natural lipids and fatty acids. It is clinically proven to moisturize and enhance radiance for healthy-looking, nourished skin. It has been tested and recommended by unbiased dermatologists, and is noncomedogenic.
| First Aid Beauty Ultra Repair Firming Collagen Cream
($42/50ml, up to 15% cashback at SkinStore)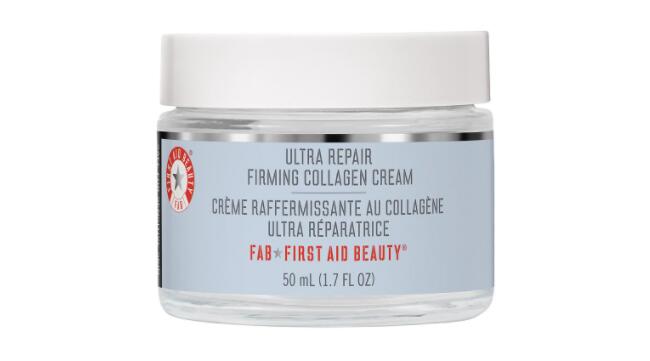 Source:ulta.com
Reveal a youthful visage with the help of First Aid Beauty's Ultra Repair Firming Collagen Cream. Packed with collagen, peptides and niacinamide, this luxurious moisturiser leaves the skin with a plump and bouncy appearance to enhance your natural glow. With fewer visible fine lines and wrinkles, your new supple texture instantly creates a healthier-looking complexion.
| Olay Regenerist Collagen Peptide 24 Face Moisturizer
($28.99, up to 7% cashback at Olay)
Source:walmart.com
Your skin deserves plumping moisture, so give it OLAY Regenerist Collagen Peptide 24. This moisturizer is formulated with Olay's Collagen Peptide, Palmitoyl Pentapeptide-4, and niacinamide (vitamin B3), to hydrate, brighten, and support cell turnover. This lightweight formula absorbs quickly, giving you 24 hours of hydration without a sticky, greasy or heavy feeling.
| Peter Thomas Roth Peptide 21 Wrinkle Resist Moisturizer
($95/50ml, up to 6% cashback at Peter Thomas Roth)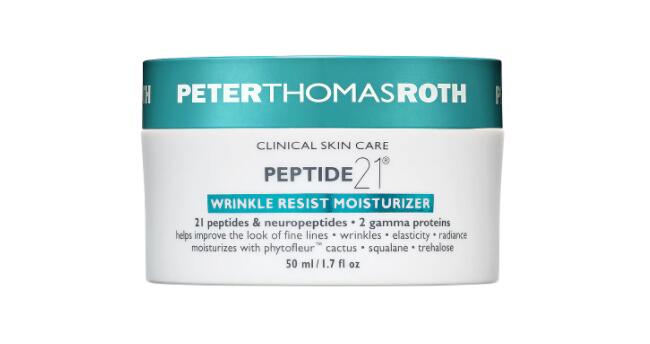 Source:sephora.com
Peter Thomas Roth Peptide 21 Wrinkle Resist Moisturizer is a wrinkle-fighting cream with a complex of 21 Peptides and Neuropeptides and 2 Gamma Proteins that delivers lightweight yet intense hydration. Cutting-edge Peptides and Neuropeptides help to visibly lift and firm skin's appearance. Gamma Proteins harness the power of Asian natto gum to help improve the look of elasticity, radiance, uneven skin tone and texture. Phytofleur Cactus, Squalane and a Hyaluronic Acid Complex moisturize and improve skin hydration.
| The INKEY List Peptide Moisturizer
($14.99/50ml, up to 5% cashback at Sephora)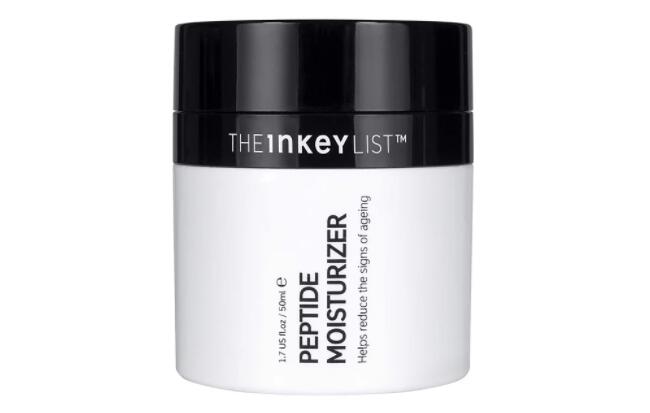 Source:sephora.com
A rich, daily, age-defying moisturiser uniting two forms of peptides to support skin's natural proteins, helping to keep skin looking healthy and youthful. This rich Peptide Moistusier, housed in a airtight and hygienic pump jar contains 2% royal epigen which is clinically proven to increase the speed of skin renewal for noticeably smoother and more even skin in just 28 days. Meanwhile, a supporting hexapeptide helps to hydrate, strengthen the barrier and increase collagen production.
| Derma E Advanced Peptides & Collagen Moisturizer
($35/56g, up to 7% cashback at Derma E)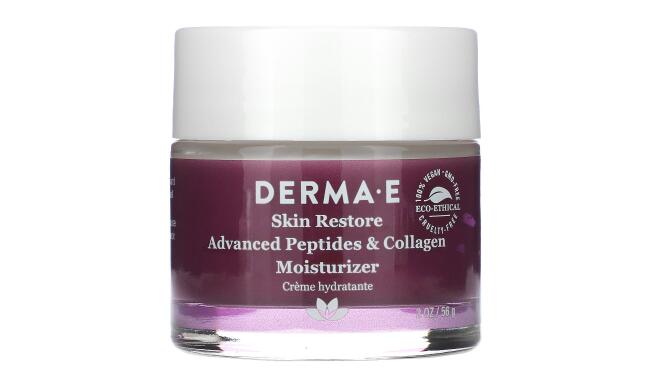 Source:iherb.com
Derma E's Advanced Peptides & Collagen Moisturizer is a revolutionary double-action peptide cream that visibly softens and smooths the appearance of even the deepest wrinkles. Peptide Argireline helps to relax facial muscles and minimize the appearance of fine lines and wrinkles, while Peptide Matrixyl tells aging skin to behave more like young, healthy skin. The result is a boost in collagen synthesis and skin firmness. The lotion also features a blend of green tea and aloe to nourish the skin and promote a soft, supple complexion.
| Vichy LiftActiv Peptide-C Face Moisturizer
($39/50ml, up to 8% cashback at Vichy)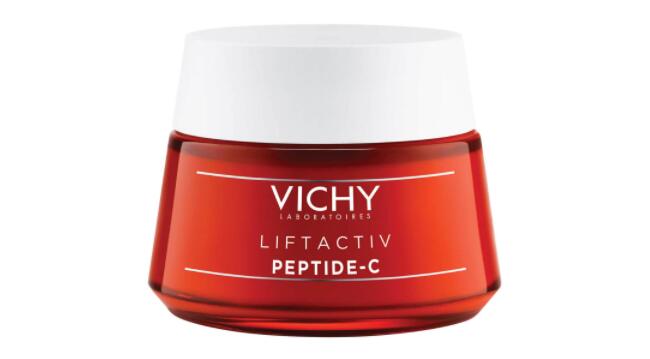 Source:target.com
LiftActiv Peptide-C by Vichy is an advanced anti-aging moisturizer formulated with phyto peptides, vitamin C and Vichy Volcanic Water to help correct multiple aging signs including wrinkles, dull skin, loss of definition and firmness. With a creamy texture that transforms into a powder-feel, the skin is hydrated for 48-hours, leaving skin contoured, lifted and firmer.
| Bliss Bright Idea Vitamin C + Tri-Peptide Collagen Moisturizer
($23.99/50ml, up to 6% cashback at Walgreens)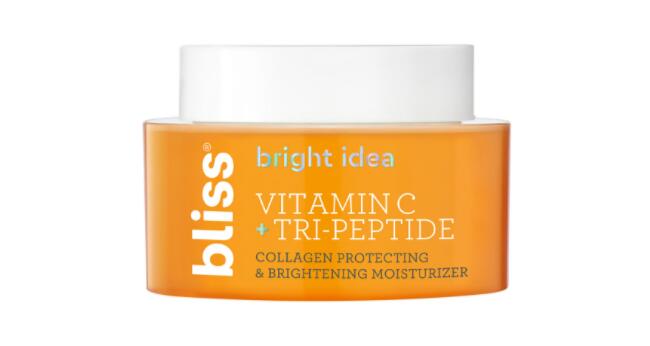 Source:ulta.com
This vegan, high-tech moisturizer contains the most effective, non-irritating form of vitamin C and a patented tri-peptide to boost skin's natural elasticity while delivering intense hydration. Spa-grade collagen-protecting duo works synergistically to further brighten and protect elasticity. Results in instantly plump, soft skin with a dewy glow.

Extrabux is an international cashback shopping site, offering up to 30% cashback from 10,000+ Stores!
LOOKFANTASTIC, SkinStore, SkinCareRx, Feelunique, Cult Beauty, Sephora, Belk, Estee Lauder, Lancome, La Mer, Kiehl's, Clinique, Elizabeth Arden, Adore Beauty, Sol de Janeiro, Hourglass, Lancer, Shiseido, FOREO, Macy's, etc.
Join to get $20 welcome bonus now! (How does Welcome Bonus work?)