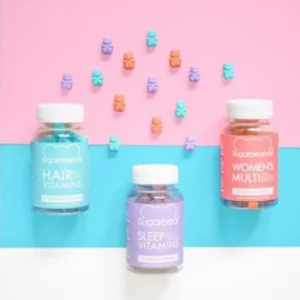 ExpSugarbear Vitamins Gummy @ Amazon
$28.48
Amazon.com offers from

$28.48

Sugarbear Vitamins Gummy.
Free shipping.

They at SugarBearHair (Sugar Bear Hair) strive for maximum safety and maximum results. Their products are manufactured in the USA in facilities that use FDA approved guidelines to ensure quality and safe products for your peace of mind. They used only the best ingredients available to ensure an effective product that looks great, smells great and tastes great too!
SugarBearHair Women's Multi Vegan MultiVitamin Ingredients: their vegan vitamins contain Vitamin C, Vitamin D-2, Vitamin E, Vitamin B-2, Vitamin B-6, Folate, Vitamin B-12, Biotin, Pantothenic Acid, Magnesium, Zinc, Omega-3, and a Vegan Collagen Booster Blend as the active vitamins and minerals. The gummies are made with real berries for a deliciously sweet flavor, coconut oil, and a dash of sugar.

Previous
Top in 3hrs
Top in 24hrs
Ending Soon