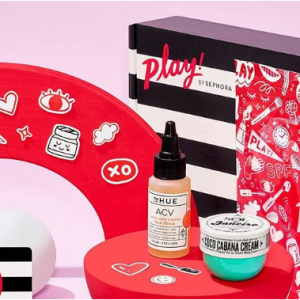 ExpNEW! PLAY! Boxes With 6 Samples @ Sephora
4% Cash Back
5% Super Cash Back
Only $9 (Was, $10 Worth Up To $63)
Get PLAY! boxes with six samples for $9 (was $10) —no subscription needed at Sephora.
Limited time only.
Free shipping on orders $50+.
Choose 5 trial sizes with a $75 purchase or 3 trial sizes with a $50 purchase via promo code PICKYOURSCopied.
Or, pick a trial-size FRESH mask on orders $25+ with promo code FRESHLOVECopied.
Or, get a free skincare trial size from Algenist, Drunk Elephant, Biossance or Hebivore on orders $25+ with promo code WANTEDCopied.

Your chance to experience the PLAY! by SEPHORA beauty box—no subscription required! Pick one box (or five) for yourself and grab another as a gift for a friend. Stock up on your favorites before they're gone.

Each monthly box includes:
✔ Five curated, trial-size makeup, skincare, and hair-care samples from top brands (plus a beauty bonus!) worth up to $63!
✔ PLAY! PASS redeemable for 50 bonus Beauty Insider points when used with any in-store purchase or an online purchase of at least $20.* (Don't worry, we've extended the dates—the pass will now expire 30 days after receiving your PLAY! box.)
✔ A reusable, recyclable makeup bag
✔ A PLAY! BOOK with tips, tricks, and how-tos for each sample

What else you need to know:
PLAY! by SEPHORA is a monthly subscription program for $10 a month (learn more about the subscription here). By purchasing this box, you are NOT opting into the monthly subscription program. This is a one-time, single-box purchase.
Box A: ($37 value)
- 0.05 oz/ 1.5 g BITE Beauty Amuse Bouche Lipstick in Rhubarb
- 0.1 oz/ 3 g Milk Makeup Blur Stick
- 1 Pair Wander Beauty Baggage Claim Gold Eye Masks
- 0.5 oz/ 15 mL Fresh Rose Face Mask
- 0.33 oz/ 10 mL Caudalie Vinosource Moisturizing Sorbet
- 0.005 oz/ 1.5 mL Stella McCartney Stella

Box B: ($55 value)
- 0.24 oz/ 7 mL Clinique Moisture Surge 72-Hour Auto-Replenishing Hydrator
- 0.005 oz/ 0.14 g Clinique Quickliner for Eyes Intense in Intense Ebony
- 0.33 oz/ 10 mL Caudalie Vinoperfect Radiance Serum
- 1 Pair Wander Beauty Baggage Claim Gold Eye Masks
- 0.05 oz/ 1.5 mL BITE Beauty Amuse Bouche Lipstick in Sake
- 0.05 oz/ 1.5 mL Kat Von D Saint + Sinner Eau De Parfum
Box C: ($28 value)
- 0.16 oz/ 5 mL Too Faced Primed & Peachy Cooling Matte Perfecting Primer in Peaches and Cream
- 0.5 oz/ 15 mL Lancome Bi-Facial Double-Action Eye Makeup Remover
- 0.57 oz/ 17 mL VERB Ghost Oil
- 0.025 oz/ 0.7 mL trèStiQue Lip Glaze in Paris Pink
- 0.0088 oz/ 0.7 g Sephora Collection Rouge Gel Lip Liner in 02 Nothin' but Nude
- Mystery Deluxe
Box D: ($29 value)
- 0.558 oz/ 15 g beautyblender blendercleanser solid pro
- 0.04 oz/ 1.2 g Clinique Almost Lipstick in Black Honey
- 0.17 oz/ 5 mL belif Aqua Bomb Sleeping Mask
- 6 Capsules HUM Nutrition Daily Cleanse Clear Skin & Breakout Supplement
- 0.5 oz/ 15 mL Origins Clear Improvement Active Charcoal Mask to Clear Pores
- 0.018 oz/ 0.5 g BITE Beauty Agave Lip Balm/Scrub

Box E: ($44 value)
- 0.12 oz/ 3.5 g Laura Mercier Translucent Loose Setting Powder
- 0.08 oz/ 2.6 g GrandeLIPS Hydraplump Liquid Lipstick in Smoked Sherry
- 0.33 oz/ 10 mL Tarte Drink of H2O Hydrating Boost Moisturizer Rainforest of the Sea
- 0.67 oz/ 20 mL Moroccanoil Protect & Prevent Spray
- 1 oz/ 10 mL Philosophy Purity Made Simple Cleanser
- 0.05 oz/ 1.5 mL Tory Burch Just Like Heaven

Box F: ($42 value)
- 0.12 oz/ 3.5 g Laura Mercier Translucent Loose Setting Powder
- 0.08 oz/ 2.6 g GrandeLIPS Hydraplump Liquid Lipstick in Smoked Sherry
- 1 oz/ 30 ml Philosophy Purity Made Simple Cleanser
- 0.17 oz/ 5 mL Dr. Jart Ceramidin Cream
- 0.84 oz/ 25 mL Ouai Leave in Conditioner
- 0.5 oz/ 1.5 mL Tory Burch Just Like Heaven
Box G: ($28 value)
- 0.5 oz/ 15 mL Urban Decay All Nighter Long-Lasting Makeup Setting Spray
- 0.16 oz/ 5 mL Make Up For Ever Matte Velvet Skin Full Coverage Foundation in Y315
- 0.04 oz/ 1.2 g Clinique Chubby Stick Moisturizing Lip Colour Balm in Whoppin' Watermelon
- 0.25 oz/ 7.5 mL) Dr. Brandt Skincare Pores No More Pore Refiner Primer
- 0.6 oz/ 20 mL Fresh Soy Face Cleanser
- 0.4 oz/ 1.2 mL Maison Margiela 'REPLICA' Jazz Club
Box H: ($38 value)
- 1 Pair Wander Beauty Baggage Claim Gold Eye Mask
- 0.3 oz/ 10 mL Glow Recipe Watermelon Sleeping Mask
- 0.005 oz/ 0.14 g Clinique Quickliner for Eyes Intense in Intense Ebony
- 0.24 oz/ 7 mL Estee Lauder Double-Wear Stay-In-Place Foundation in 7w1 Deep Spice
- 0.33 oz/ 10 mL Caudalie Vinosource Moisturizing Sorbet
- 0.005 oz/ 1.5 mL Stella McCartney Stella
Box I: ($34 value)
- 0.25 oz/ 7.5 mL Dr. Brandt Skincare Pores No More Pore Refiner Primer
- 0.16 oz/ 5 mL Make Up For Ever Matte Velvet Skin Full Coverage Foundation in Y415
- 0.1 oz/ 3 mL Tarte Quench Hydrating Primer Rainforest Of The Sea Collection
- 0.6 oz/ 20 mL Fresh Soy Face Cleanser
- 0.05 oz/ 1.5 mL Dolce&Gabbana Dolce Eau De Parfum
- 0.07 oz/ 2 g Anastasia Beverly Hills Stick Foundation in Banana
Box J: ($43 value)
- 0.12 oz/ 3.5 g Laura Mercier Translucent Loose Setting Powder
- 0.08 oz/ 2.6 g GrandeLIPS Hydraplump Liquid Lipstick in Smoked Sherry
- 0.17 oz/ 5 mL Dr. Jart Ceramidin Cream
- 0.17 oz/ 5 mL Lancôme Hydra Zen Anti-Stress Gel Moisturizer
- 0.057 oz/ 1.7 mL Juliette Has a Gun Not a Perfume
- 0.75 oz/ 33 ml) Amika Perk Up Dry Shampoo
Box K: ($32 value)
- 0.16 oz/ 5 ml Too Faced Primed and Peachy Cooling Matte Skin Perfecting Primer
- 0.0088 oz/ 0.7 g Sephora Collection Rouge Gel Lip Liner in 02 Nothin' but Nude
- 0.34 oz/ 10 mL Moroccanoil Hair Treatment Oil
- 0.07 oz/ 2 g Fresh Sugar Lip Caramel Hydrating Balm
- 0.1 oz/ 3 mL Tarte Lights, Camera, Lashes 4-in-1 Mascara
-Mystery Deluxe
Previous
Top in 3hrs
Top in 24hrs
Ending Soon