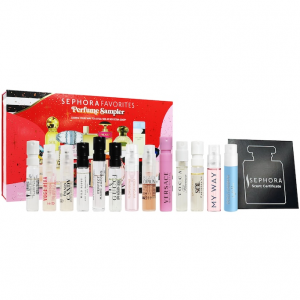 New! Sephora Favorites Bestsellers Perfume Sampler Set @ Sephora
4% Cash Back
5% Super Cash Back
$68 ($118 Value)
Enjoy Sephora Favorites Bestsellers Perfume Sampler Set for $68 ($118 value) at Sephora.
Free US shipping on all orders via promo code FREESHIPCopied.
Free 11-pc. complexion sample with $35 purchase via promo code MATCHMADECopied.
Or, choose a trial-size fresh Black Tea Eye Concentrate or Tatcha The Silk Peony cream with $25 purchase via promo code EYELOVECopied.
Or, pick a trial size with $45 purchase via promo code CHOOSEFUNCopied.

2 free samples with your order.
Sephora APP Exclusive for now.
This deluxe perfume sampler features 13 of our top-selling fragrances. The scents range from fruity florals to warm, sweet gourmands we know you'll love. Choose your favorite, and then take the included scent certificate to any US Sephora store* to redeem for a full size of your favorite featured fragrance at no extra cost*.

*You may redeem your scent certificate at any US Sephora store or on sephora.com to receive one of the eligible products listed below. Unfortunately, we are unable to accept redemptions at Sephora inside JCPenney stores, Kohl's stores, or Sephora Canada stores. The Sephora Favorites Kit, the scent certificate, and any product received with the scent certificate are FINAL SALE and may not be returned or exchanged for cash, credit, or otherwise. Complete terms and redemption instructions are available on the scent certificate inside the kit.

Certificate redeems for one of the following full-size fragrances:
- 1 oz/ 30 mL BURBERRY Her London Dream Eau de Parfum
- 1.6 oz/ 50 mL DOLCE&GABBANA Light Blue Eau de Toilette
- 1 oz/ 30 mL Armani Beauty My Way Eau de Parfum
- 1 oz/ 30 mL Gucci Bloom Eau de Parfum For Her
- 1.6 oz/ 50 mL Marc Jacobs Fragrances Perfect Eau de Parfum
- 1.7 oz/ 50 mL NEST New York Wild Poppy Eau de Parfum
- 1 oz/ 30 mL Prada CANDY Eau de Parfum
- 1.7 oz/ 50 mL Sol de Janeiro SOL Cheirosa '62 Eau de Parfum
- 1.7 oz/ 50 mL TOCCA Florence Eau de Parfum
- 1 oz/ 30 mL Valentino Voce Viva Eau de Parfum
- 1.7 oz/ 50 mL Versace Bright Crystal Eau de Toilette
- 1 oz/ 30 mL Viktor&Rolf Flowerbomb Eau de Parfum
- 1 oz/ 30 mL Yves Saint Laurent Black Opium Eau de Parfum

This Set Contains:
- 0.05 oz/ 1.5 mL BURBERRY Her London Dream Eau de Parfum
- 0.02 oz/ 0.8 mL DOLCE&GABBANA Light Blue Eau de Toilette
- 0.04 oz/ 1.2 mL Armani Beauty My Way Eau de Parfum
- 0.05 oz/ 1.5 mL Gucci Bloom Eau de Parfum For Her
- 0.04 oz/ 1.2 mL Marc Jacobs Fragrances Perfect Eau de Parfum
- 0.05 oz/ 1.5 mL NEST New York Wild Poppy Eau de Parfum
- 0.04 oz/ 1.2 mL Prada CANDY Eau de Parfum
- 0.03 oz/ 1 mL Sol de Janeiro SOL Cheirosa '62 Eau de Parfum
- 0.05 oz/ 1.5 mL TOCCA Florence Eau de Parfum
- 0.04 oz/ 1.2 mL Valentino Voce Viva Eau de Parfum
- 0.03 oz/ 1 mL Versace Bright Crystal Eau de Toilette
- 0.04 oz/ 1.2 mL Viktor&Rolf Flowerbomb Eau de Parfum
- 0.04 oz/ 1.2 mL Yves Saint Laurent Black Opium Eau de Parfum
Previous
Top in 3hrs
Top in 24hrs
Ending Soon