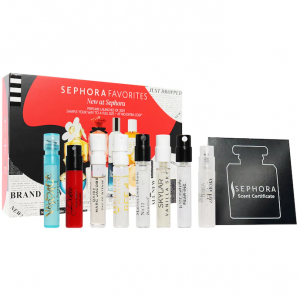 ExpNew! Sephora Favorites New at Sephora Perfume Sampler Set @ Sephora
4% Cash Back
5% Super Cash Back
$68 ($116 Value)
Enjoy Sephora Favorites New at Sephora Perfume Sampler Set for $68 ($116 value) at Sephora.
Free US shipping on all orders via promo code FREESHIPCopied.
Free Natasha Denona trial-size Macro Blade Liquid Liner with $25 purchase via promo code LINERCopied.
Or, free Lancome trial-size duo with $35 purchase via promo code TEINTIDOLECopied.
Or, free OUAI trial size Scalp & Body Scrub with $25 purchase via promo code BESTOUAICopied.

2 free samples with your order.
This perfume sampler features exciting new fragrances ranging from fruity florals to warm and sweet gourmands we know you'll love for fall. Choose your favorite, and then take the included Scent Certificate to any US Sephora store or go online* to redeem for a full size of your favorite featured fragrance at no extra cost.
Certificate redeems for one of the following:
- .7 oz/ 50 mL DOLCE&GABBANA Dolce Rose Eau de Toilette
- 1.7 oz/ 50 mL Ellis Brooklyn BEE Eau de Parfum
- *COMING SOON* 1 oz/ 30 mL Armani Beauty Terra di Gioia Eau de Parfum
- 3.3 oz/ 98 mL Juliette Has a Gun PEAR INC. Eau de Parfum
- 1.7 oz/ 50 mL Maison Louis Marie No.12 Bousval Eau de Parfum
- 1.7 oz/ 50 mL Marc Jacobs Fragrances Daisy Eau So Intense Eau de Parfum
- 1.7 oz/ 50 mL SKYLAR Vanilla Sky Eau de Toilette
- 1.7 oz/ 50 mL Versace Dylan Turquoise Pour Femme Eau de Toilette

This Set Contains:
- 0.03 oz/ 0.8 mL DOLCE&GABBANA Dolce Rose Eau de Toilette
- 0.05 oz/ 1.5 mL Ellis Brooklyn BEE Eau de Parfum
- 0.04 oz/ 1.2 mL Armani Beauty Terra di Gioia Eau de Parfum
- 0.05 oz/ 1.7 mL Juliette Has a Gun PEAR INC. Eau de Parfum
- 0.05 oz/ 1.5 mL Maison Louis Marie No.12 Bousval Eau de Parfum
- 0.04 oz/ 1.2 mL Marc Jacobs Fragrances Daisy Eau So Intense Eau de Parfum
- 0.05 oz/ 1.5 mL SKYLAR Vanilla Sky Eau de Toilette
- 0.03 oz/ 1 mL Versace Dylan Turquoise Pour Femme Eau de Toilette
Previous
Top in 3hrs
Top in 24hrs
Ending Soon