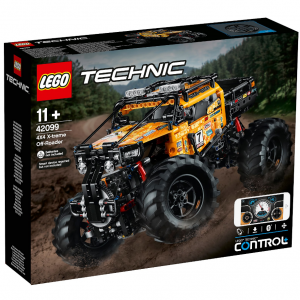 ExpLEGO Technic: Control+ 4x4 X-treme Off-Roader Truck Set (42099) @ IWOOT
$209.99 (was $261.99) + FS
Get FREE shipping on the LEGO Technic: Control+ 4x4 X-treme Off-Roader Truck Set (42099)! Simply add the item to your cart and use CODE -

4X4

for your FREE shipping to apply.
Are you ready to take your LEGO® play experience to another level? The LEGO Technic 4x4 X-treme Off-Roader is powered by an advanced Smart Hub with 3 motors and controlled via the intuitive LEGO TECHNIC CONTROL+ app. The sophisticated app technology enables super-precise movement and functionality, while delivering endless authentic digital play combinations with authentic sound effects. Users can choose from different control screens to drive forward, reverse, steer, accelerate, brake and traverse obstacles. You can also get real-time feedback, such as a speed and tilt log or test out your skills in the app's challenges and achievement section. This sturdy 4x4 app-controlled truck comes with high-rise independent suspension, large wheels with chunky tyres and a fresh colour scheme with intricate sticker detailing. Its complex gear mechanisms and technologies introduce LEGO builders to advanced elements of engineering, while improving reaction times, cognitive thinking and creative problem-solving skills.
This cool toy truck model is controlled via the LEGO® TECHNIC CONTROL+ app and powered by an advanced Smart Hub with 2 XL motors and 1 L motor for a more immersive play experience, authentic movements and hours of fun.

The app-controlled LEGO® 4x4 X-treme Off-Roader is operated via a smart device with 3 alternative screens. Go to LEGO.com/devicecheck for a list of compatible smart devices.

Multi-function control: Drive forward, reverse, steer, accelerate, brake, traverse obstacles, play sound effects and get real-time feedback, such as a speed and tilt log.

One-touch control: Drag a direction on the screen and see the 4x4 carry out the manoeuvre.

Challenges & achievements: Complete challenges to unlock achievement badges.

Sturdy app-controlled LEGO® truck with high-rise independent suspension, large wheels and chunky tyres.

Smart Hub features Bluetooth Low Energy (BLE) connectivity, activation button, 6 axis sensor (3 gyro and 3 accelerometer sensors) and 4 connectivity ports.

Download the LEGO® TECHNIC CONTROL+ app from the App Store or Google Play. Ask your parents' permission before going online.

This remote-controlled truck requires batteries (not included). Please refer to the product packaging for type and quantity.

This buildable LEGO® Technic model introduces LEGO builders to advanced elements of engineering, while improving reaction times, cognitive thinking and creative problem-solving skills.

Not compatible with LEGO® Power Functions systems.

4x4 X-treme Off-Roader measures over 7" (19cm) high, 12" (33cm) long and 8" (22cm) wide.

Number of Pieces: 958

Age: 11+



Previous
Top in 3hrs
Top in 24hrs
Ending Soon