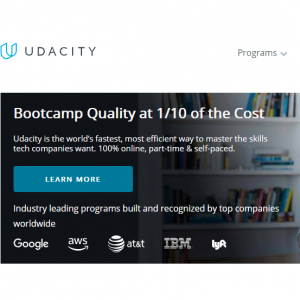 Udacity Free Courses - Python Programming, Data Structures and Algorithms, Nanodegree Programs
$20 Cash Back
$25 Super Cash Back
7 Days FREE Trial
Enjoy One Free Month Access to Udacity Nanodegree Programs, get your 7 Days FREE Trial.
Take Udacity Free Courses - Intro to Python Programming, Developing Android Apps with Kotlin, Intro to Data Structures and Algorithms, Intro to TensorFlow for Deep Learning and More
Udacity is the world's fastest, most efficient way to master the skills tech companies want. 100% online, part-time & self-paced.

Udacity Nanodegree Programs are so popular, including best selling courses like C++ Developer, Java Web Developer, Machine Learning Engineer, Programming for Data Science with Python and more, you can also enjoy nearly 200 Udacity Free Courses online.

Udacity Free Courses includes:
Intro to Python Programming, Firebase Analytics: Android, JavaScript Testing, Material Design for Android Developers and more
udacity python data science -
Programming for Data Science with Python, Prepare for a data science career by learning the fundamental data programming tools: Python, SQL, command line, and git. Now you can get FREE 7 Days trial.
Previous
Top in 3hrs
Top in 24hrs
Ending Soon