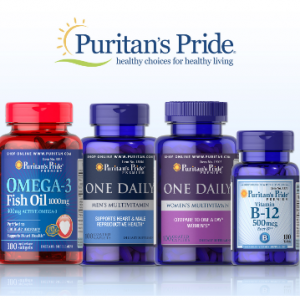 Exp20% OFF & Buy 1, Get 2 Free on Vitamin and Supplements @ Puritan's Pride
10% Super Cash Back
8% Cash Back
Puritan's Pride offers vitamin and supplements for buy 2 get 4 free, buy 1 get 2 free.

20% off via coupon code FLSH419Copied

Free shipping on the order over $49.
Puritan's Pride Q-SORB™ Co Q-10 100 mg - Contains a 15-day to two-month supply of easy-to-swallow, rapid-release softgels that offer superior absorption, Helps support a healthy heart and cardiovascular system, Promotes energy production within your heart and muscles, Supports good oral health, which has been linked to cardiovascular health.



Previous