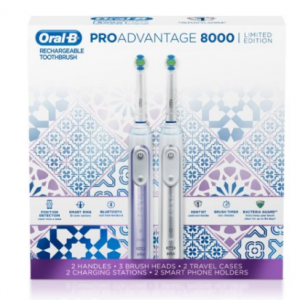 Exp$89.91 (Was $199.98) For Oral-B Pro Advantage 8000 Rechargeable Toothbrush (2 pack)
Up To 6% Cash Back
Up To 7% Super Cash Back
55% OFF
Get 55% off Oral-B Pro Advantage 8000 Rechargeable Toothbrush (2 pack) at Sam's Club.
Free shipping for Sam's Club members.
End 2/24.
Oral-B Pro Advantage 8000 Rechargeable Toothbrush (2 pack)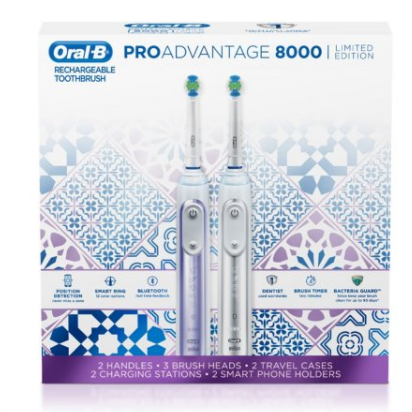 Description
Use the Oral-B App to seamlessly pair your Pro Advantage 8000 Rechargeable Toothbrush with a smartphone and you're on your way to brushing like your dentist recommends.
The Oral-B Pro Advantage 8000 Limited Edition comes with Position Detection technology which uses Bluetooth technology, your smartphone, and facial recognition technology to provide you with real-time feedback about your brushing habits.
The 360 SmartRing with LED lights allows you to personalize your brushing experience with your choice of 12 colors. The SmartRing works with the integrated timer and pressure sensor to provide you with visual feedback on brushing time and brushing pressure. Together, they help ensure you brush for the dentist-recommended 2-minutes while making sure you brush with appropriate pressure to protect your gums from over-brushing.
The Pro Advantage features various brushing modes so you can further customize your brushing experience based on your specific oral care goals. Additionally, Bacteria Guard helps keep your brush clean for up to 90 days*.
Trust in the precision engineering of Braun and the dental expertise of Oral-B, the #1 brand used and recommended by dentists worldwide.
Previous