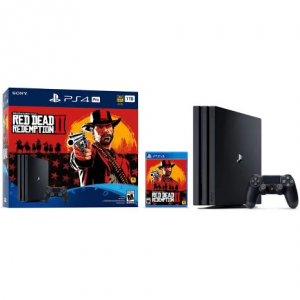 ExpPlayStation 4 Pro 1TB Red Dead Redemption 2 Bundle @ Target
Up To 1.5% Super Cash Back
Up To 1% Cash Back
$399
Target.com offers the PlayStation 4 Pro 1TB Red Dead Redemption 2 Bundle for $399.

Free shipping.
4K TV Enhanced - When played on a 4K TV, Red Dead Redemption 2 players will benefit from an increased resolution (compared to the PS4 system).
HD TV Enhanced - 1080p HD TV players will benefit from increased image clarity through super-sampling (turn on Supersampling Mode in your PS4 Pro system settings to access this feature).
HDR Compatible - Players with HDR displays can experience the game in high-dynamic range color (HDR).
Previous
Ending Soon
Similar Deals