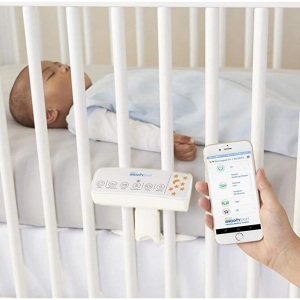 ExpHalo Snoozypod Vibrating Bedtime Soother, White @ Amazon
$19.99 (was $59.99)
Amazon.com offers the Halo Snoozypod Vibrating Bedtime Soother, White for $19.99.
Free shipping on orders over $25.

The HALO SnoozyPod vibrating bedtime soother is the first device to combine gentle vibration, soothing sounds, and an amber glow nightlight to lull infants and toddlers to their best sleep. Designed to fit most cribs, toddler and twin beds, SnoozyPod's calming vibration, comforting sounds and soft amber glow nightlight create the perfect environment to help your child fall asleep and stay asleep. The nightlight uses a soft amber LED bulb because the latest research on sleep environments shows that amber light does not interrupt our body's circadian rhythm. The nightlight has two levels of brightness and runs for 30 minutes. There are two levels of soothing vibration to calm babies and children to sleep. Vibration can be set to play for 30 minutes or all-night long. On the 30-minute setting, vibration fades gently after the 30-minute timer expires, so that children don't startle awake when vibration stops. There are four soothing sounds: heartbeat, white noise, soothing stream, and rainforest. Soothing sounds can be set to play for 30 minutes or all night long to help quiet household noises that may disrupt sleep. In addition, SnoozyPod is Bluetooth enabled, so caretakers can operate the device from the app, without entering baby's room. Within the SnoozyPod app, parents can choose to lock the button functions so infants cannot change the settings of SnoozyPod. An AC adaptor allows for continuous use, with a backup battery option convenient for traveling or power outages. SnoozyPod fits snuggly under the mattress leaving a safe, flat, firm surface for your child to comfortably sleep. And most important to HALO's safe sleep mission: when a baby is happy and comfortable in his crib, he's most likely to stay in the safest place for him, his own bed.
Previous
Top in 3hrs
Top in 24hrs
Ending Soon