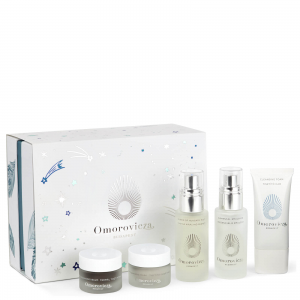 Exp30% OFF Omorovicza Christmas Intro Set @Beauty Expert
Up To 8% Cash Back
Up To 10% Super Cash Back
£45.50(WORTH £112)+FREE Delivery
The Set Contains: Thermal Cleansing Balm (15ml), Deep Cleansing Mask (15ml), Cleansing Foam (30ml), Elemental Emulsion (30ml), Queen of Hungary Mist (30ml)

Revive and nourish skin with the Christmas Intro Set from Omorovicza; a family-owned, premium skincare label inspired by the healing, mineral-rich thermal waters of Hungary. The five-piece set combines skincare must-haves formulated to drive the reparative benefits of minerals deep into the epidermis for a firmer, suppler and more luminous complexion with restored hydration, clarity and radiance.
Thermal Cleansing Balm (15ml) - A unique black balm that glides onto skin, removing makeup and impurities without stripping to leave your complexion radiant, soft and silky smooth skin. Containing Hungarian Moor Mud which is rich in calcium and magnesium, the balm replenishes the skin and lifts spirits and senses to leave skin firmer, suppler and younger looking.
Queen of Hungary Mist (30ml) - A weightless, delicately scented formula that delivers multiple benefits to skin. Enriched with Apple Pectin and a nourishing blend of Rose, Sage and Orange Blossom Waters, the refreshing mist balances and hydrates, whilst the brand's patented Healing Concentrate™ infuses minerals deep into skin to promote a firmer, younger-looking visage. Inspired by the Queen of Hungary Water - the world's first recorded perfume specially formulated for Queen Elisabeth of Hungary in the 14th Century - the non-greasy spray can be used as a purifying post-cleanse toner, or as a revitalising spritz throughout the day to soften and replenish.
Previous