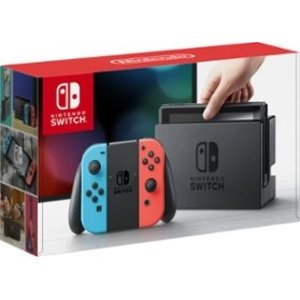 ExpNintendo Switch Console + $25 Gift Card @ Best Buy
0.8% Cash Back
1% Super Cash Back
$299
Best Buy offers the Nintendo Switch + $25 Best Buy e-gift card for $299.

Gamestop also offers the Nintendo Switch + $25 Gamestop e-gift card for $299.

Deal ends 5/18.

Free shipping.

Excludes prior purchases. May not be valid in combination with other offers. If you remove any of the qualifying items from your cart or cancel all or part of your order, you will not receive the promotional savings. Valid on in-stock items only. Offer subject to change. Best Buy's Return Policy on Bundle or Promotional Discount Items applies to this purchase. E-Gift Card Details: BestBuy.com orders, including store pickup, will receive an e-gift card. A valid email address is required to redeem. The e-gift card will be created and sent out after your eligible product is received, shipped, or picked up in store. You may be asked to confirm your email address, and, if asked, you must respond to that email within 60 days to receive the e-gift card.

Previous
Top in 3hrs
Top in 24hrs
Ending Soon