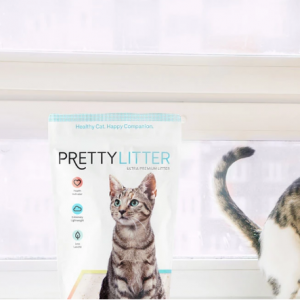 ExpPretty Litter Cat Litter on Sale @Pretty Litter
20% Off
Pretty Litter has

20% Off

Pretty Litter Cat Litter on Sale via coupon code MEOWICACopied .

Free US shipping.
Deal ends 10/31/2010.
PrettyLitter's revolutionary formula means a single bag, per cat, typically lasts you an entire month. PrettyLitter absorbs and then eliminates moisture which means you do not need to keep replenishing your litter throughout the month.
Cats are notorious for hiding illnesses, so it's often hard to tell if they are sick or in pain. PrettyLitter makes it easier for you to know if your cat is experiencing a potential health issue before urgent medical care is needed, saving you money, stress and potentially your cat's life.
PrettyLitter is odorless and scentless. When in contact with urine, it traps the odor and then eliminates the moisture. With PrettyLitter, you'll never smell your cat's dirty business again.
PrettyLitter's formula makes it easier for you to use and clean your litter box. Its highly absorbent crystals soak in moisture and trap all odor so one bag can last all month. That means less work, no odor and less mess.
Previous
Top in 3hrs
Top in 24hrs
Ending Soon