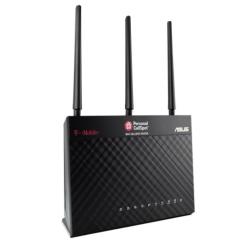 Exp$59.01 off T-Mobile Wi-Fi CellSpot Router - Certified Pre-Owned
$49.99(value $100)
T-Mobile offers T-Mobile Wi-Fi CellSpot Router - Certified Pre-Owned for $49.99. Offer subject to free standard shipping terms and conditions.

FREE standard shipping applies to accessory orders over $20 and applies automatically at final checkout page.
The T-Mobile Wi-Fi CellSpot™ Router has patented Wi-Fi technology built to prioritize your Wi-Fi calls. The Router also covers 3000+ sq. ft., this premium range gives your home a large footprint of Wi-Fi which means less dropped calls. The CellSpot supports both 2.4GHz and 5GHz, allowing for more Wi-Fi capable devices to connect, such as tablets and laptops, all while giving precedence to your Wi-Fi calls. This product is available for purchase by both T-Mobile and non-T-Mobile customers.
Previous