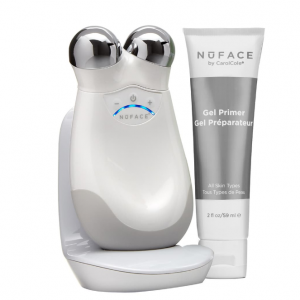 ExpNuFACE White Trinity® Anniversary Facial Toning Kit @ Nordstrom
$217.75 ($325 Value)
Get NuFACE White Trinity® Anniversary Facial Toning Kit for

$217.75

($325 Value) at Nordstrom.
Early access for Nordstrom cardmembers: July 12 at 12:30pm est - 18.
Not a cardmember? Apply Now.
Access to all: 7/19 at 12:30pm EST.

5 free samples with your order.
Free US shipping.

End 8/4.

NuFace White Trinity® Anniversary Facial Toning Kit
What it is: An award-winning skin care device with innovative interchangeable treatment attachments to helps rejuvenate and improve your appearance.
What it does: The NuFACE Trinity Toning kit comes with the NuFACE Trinity Facial Trainer, a microcurrent treatment attachment that is FDA-cleared for facial stimulation to gently stimulate the larger surface areas of the face. As we age, our body's natural current begins to slow down (just like our metabolism), leading to sagging skin, loss of contour and wrinkles. Microcurrent mimics this natural current and goes beyond skin deep to tone facial muscles while improving contour and skin tone and reducing the appearance of lines and wrinkles.
Kit includes:
- Trinity Device in White
- Trinity Facial Toning (microcurrent attachment)
- Gel Primer (2 oz.)
- Charging Cradle
- Power Adapter
- 1-year warranty
How to use:
- Step 1: Prep. Cleanse skin and apply Gel Primer.
- Step 2: Lift. Glide the Trinity Device over your face as directed.
- Step 3: Finish. Remove Gel Primer with a damp cloth.
Previous
Top in 3hrs
Top in 24hrs
Ending Soon