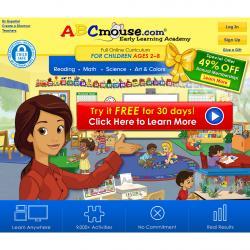 ExpFREE 30 Days Trial @ ABCmouse.com
$3 Cash Back
$4 Super Cash Back
Full online curriculum for children ages 2– 8.

Get your first month for FREE.

ABCmouse.com offers a full online preschool through 2nd grade curriculum, with more than 8,500 interactive learning activities and more than 850 lessons that teach reading, math, science, social studies, art, and music. Our goal is to make learning fun for children, while giving them a head start for their future academic success.
ABCmouse.com is to stimulate young children's interest in learning and build a strong foundation for their future academic success. They provide a comprehensive, interactive, and engaging online curriculum for early learners that is intended to supplement preschool, pre-k, and kindergarten programs—all in a highly imaginative and safe online environment.
Previous