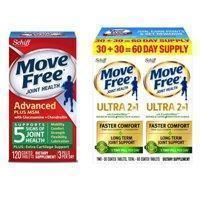 Exp$37.27 for Move Free Ultra 2in1 with Comfort Max, 60 tablet + Move Free Advanced Plus MSM
Up To 4% Super Cash Back
Up To 3.5% Cash Back
$9.86 off
Walmart offers Move Free Ultra 2in1 with Comfort Max, 60 tablet + Move Free Advanced Plus MSM, 120 tablets (180 Ct total) for $37.27.

Move Free Ultra 2in1 with Comfort Max, 60 tablets plus Move Free Advanced Plus MSM, 120 tablets - Joint Health Supplement with Glucosamine and Chondroitin.

FREE 2-day shipping on orders over $35.
The 5 Signs of Joint Health. Move Free vitamin supplements support your active lifestyle with happier, healthier joints. Joints that are:
1. mobile
2. flexible
3. strong
4. smooth
5. comfortable
Looking for relief from the constant pain of an old knee injury or support for managing arthritis symptoms? Try Move Free Advanced + MSM supplements, with cartilage-building glucosamine and chondroitin. Technically called methylsulfonylmethane, MSM is a source of sulfur that develops collagen. Collagen, in turn, supports joint cartilage. MSM helps whether your joints are arthritis-inflamed or worn and torn due to injuries. Healthy joints start with healthy cartilage. That's where glucosamine and chondroitin come in. Glucosamine supplements the formation of cartilage, giving you mobility and flexibility. Chondroitin supports joint strength by resisting compression and attracting fluid to the joints. Together, they create the cushioning and lubrication for active knees, ankles, and shoulders. Aging tends to decrease levels of joint fluid, or Hyaluronic acid, the same molecule found in healthy joints. Move Free Advanced Plus MSM supports joint health by supplementing natural HA levels. Even with arthritis, you can improve smooth movement and joint lubrication. Uniflex, a clinically tested mineral complex, provides support for joint comfort in as little as two weeks. Move Free packs the same ingredients into a smaller tablet. Smaller pill, easier to take. Even our bottle is easier to open, especially for wrists with arthritis. Easy-to-take pill, easy-open bottle, easier to maintain healthy and happy joints. It's also why Move Free supports the Arthritis Foundation, helping people take control of arthritis and living life to the fullest.
Previous
Top in 3hrs
Top in 24hrs
Ending Soon